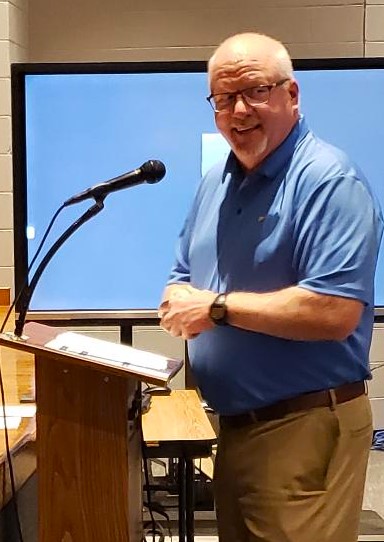 Pam Dudding
Contributing writer 
Craig County Schools now have a new Bermuda grass football field; however, it is in need of a different source of painters. 
"We have the most beautiful football field now, but we have the most amateur painters including myself," Coach Jimmy Fisher said as he recently addressed the Craig County School Board. "In fact, at one of our alumni games someone asked who painted the lines. It was me, but I was by myself, and it took eight hours to paint them, so it wasn't great." 
He explained that the old model paint machine which they have been using for the last two years is now broken and the parts are on back order. 
In previous years, maintenance painted the field until the coaches had to take over. 
Fisher noted that he has reviewed some options for the school, as it takes several volunteers (which are not always easy to get or be able to rely on due to family responsibilities), as well as many hours to complete the job. 
The first one, Fisher said "did a beautiful job but was ridiculously expensive." The paint lasted for a few weeks and the second one did the same but was less expensive. 
Fisher talked to other sports coaches as well as the Booster Club about funding this for themselves, however, was informed by the previous interim superintendent that they could not. 
Therefore, Fisher chose to present the need to the school board. 
"When I took this job, I said that I would come back for two to four years, and this is my third year. I'm not going to be here super long, and I want to make this job attractive for the next person," he shared. "We have had so many coaches over the last several years with no continuity and that is why the program hasn't done well in those years in my belief. We have pretty much turned over everything in the previous two years." 
Fisher explained that they have had multiple fundraisers to purchase new and better weight room equipment, as well as many other things for our players. Fisher worked for many of the fundraisers and some as the only adult, with few players.
"I was gone about 15 years and have coached and never had to paint the fields. Here I do," he said. "Some nights it goes well and other nights it does not. You have to paint in the rain, or I'm there until 2am in the morning trying to paint." 
Fisher stated that there are now new technologies which can be purchased which use paint robots, though are expensive. 
"I see here in our schools that we struggle to have enough money to pay the referees and you have to pay them in advance for the season. Fortunately, this year we received a $3000 donation from the Moose Lodge, which helped that out tremendously," he continued. "I think that down the line for the future I feel that each year, athletics should be given a little money to start up with so that they don't have to worry about this kind of stuff and that they are able to help with some of these sport's needs."
"We even have to buy our own footballs and many other things through our own fundraising," Fisher said. 
"This past weekend a person was paid $600 to paint the field, but we still had to have eight volunteers here to help. Again, it's not a perfect line," he said. 
Principal Susan Stimeling added that the initial $600 cost was due to the fact that they had to replace all of the markers since putting on the Bermuda grass. 
Fisher shared that in 2002 they had installed a lining kit with holes, etc. however, with the installation of the new field that was covered. 
 "However, this paint machine is spot on. You put the paint in it, hit the button and walk away for two or three hours, repeat once more and it is done." 
This is a wonderful time save for the coaching staff as the first time for the season takes about 12 hours and every time after that, still with volunteers, takes about six hours. 
He noted that the biggest users are football and soccer and spoke with the soccer coach. 
The six-year plan for the robot is $7,300 per year and Fisher previously suggested football paying $2,000, Booster paying $2,000 and Athletics paying $2,000 and spring sports $500, however he added, "we could not do it". 
What I am saying is for the board to buy this robot and then annually have the sports to pay the athletics division their portions. 
The cost of $31,040 with an annual fee of $1,790 for the technology and software updates which work off 14 different satellites. (The first $1,790 is included in the purchase price.)
The other machine costs $17,000 annually. 
Superintendent Huff asked if it had been tested on the new Bermuda grass, but it has not. 
Fisher stated that Giles, Narrows and Botetourt as well as other schools all use the robot. 
He shared that the robot can also write special messages and do icons as well as different colors with many templates. 
"It'll also write Rockets in the endzone!" he exclaimed with a smile.  
Huff added that he could get a machine in the interim, as he has not had time to look at the report to see where the school is financially. 
When the board inquired, Fisher added that they also have the volunteers use stencils and sprayed with aerosol cans. 
The board will look at the possibility after budget figures are complete, maybe at the end of September or October. 
Fisher also addressed the "100-mile charter bus policy" where teams have to charter a bus if their games go over 100 miles. 
"It is now $1,600 for us to charter a bus, and I was wondering with the purchase of the new school buses if using one would be possible?" Fisher asked.
It was shared that they do have newer buses that they can use, but may not have a driver, with the driver policy regulations. 
The board agreed if it was legally possible to allow the team to use the bus.