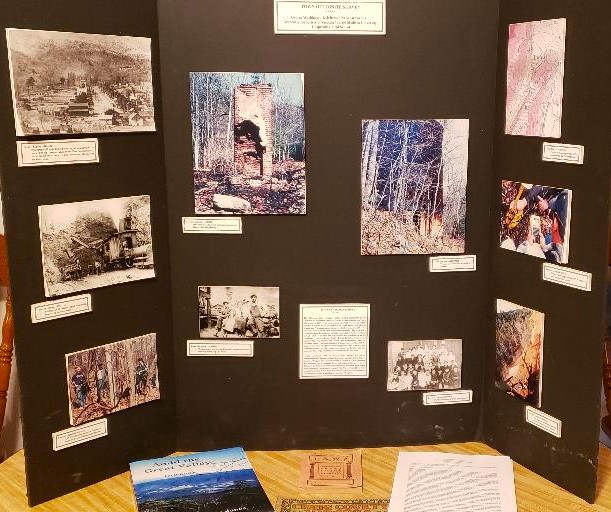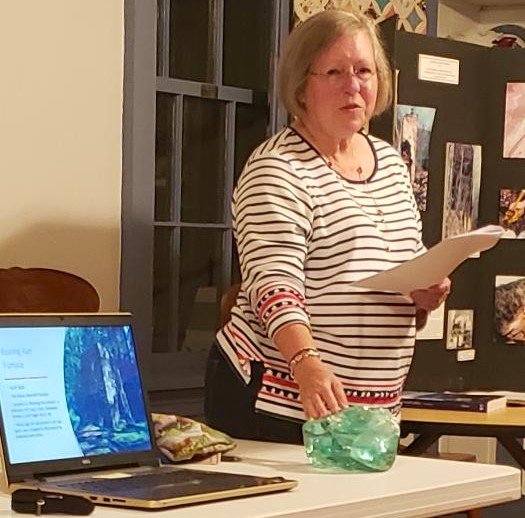 Pam Dudding
Contributing writer
Many have a difficult time believing Craig County and its surroundings were once a hubbub of many workers and businesses. 
There were beautiful hotels, stores where shoppers could purchase everything residents now have to drive out of town for and a train station that transported the much-needed coal to many parts of the states and people to many areas. 
Yes, that was old-time Craig County. It was even said they had three dance halls, a bowling alley, theatre and several places to eat for enjoyment. 
On Monday, Aug. 28, the Craig County Historical Society and Tina Crawford presented an in-depth history of mining in and around Craig County.
Crawford's relatives were in mining and though she said she personally doesn't have any background in it, she has a wonderful rock collection she has collected over many years. 
"If it was colorful or different, I would pick it up and I still have them after all these years," she added. 
Her father was born in a coal miner's camp in Russell County and his father worked at the mine as an engineer and had previously worked in the silver and copper mines in New Mexico. 
However, in 1918, her great-grandfather worked at the Cranberry Furnace in Johnson City, Tennessee. 
Crawford shared that when Virginia was discovered, King James sent people to find gold, spices and land. They found no spices and the gold was not discovered for another 150 years. 
In 1781, Thomas Jefferson wrote about their findings of gold, copper, iron, graphite, marble, limestone and other minerals. 
Crawford said she would first share some of the more unusual things that Virginia was known for. 
Wilton Barton Rogers was famous for being Virginia's first state geologist, Mt. Rogers being named after him. 
"He and his brother were brilliant for their time," Crawford explained. "They founded the Massachusetts State of Technology (MIT) and Rogers kick started the American Industrial Revolution due to the way he gathered information about the coal fields in Virginia."
Floyd is known for copper mining in 1847 and continued for 100 years of mining. 
She told the story of Captain Shelor who built a furnace there to make copperware. He wanted to broaden his horizons and loaded his wares to take to Lynchburg where there was a military training camp. 
"As he was showing his pots and pans, the people started snickering and saying how rough the pans were. They continued to the point that Shelor kicked the table, and they all flew into the air and when they hit the ground, they bounced and rang like a bell," Crawford shared. "The spectators then rushed to him and paid him twice as much." 
Wythe County was where Colonel John Chiswell hid in a cave to hide from the Indians. While hiding he discovered zinc and lead, therefore called Chiswell's Hole. 
"He then decided to turn the zinc and lead into silver," Crawford said. "But he was a scoundrel and was later charged with murder and mysteriously died." 
They used these minerals to make bullets mainly. 
"The Mine was the birthplace of the Fincastle Resolutions," she added. "This was the first adopted statement by colonists that promised that they were going to resist to their death to the British Crown to preserve their liberties." 
This mine did not close until the 70s. 
"In Smyth County, most of you know Roanoke County was originally named Big Lick because of the salt licks," she said. "The early settlers would dig wells and extract the water and dry it out and that salt was the primary source for the Confederacy during the Civil War." 
She added that they have now found woolly mammoth bones there. 
In Pittsylvania County lies the largest uranium deposit in the United States and the seventh largest in the world, discovered in 1978. 
"As the owners started mining, the Commonwealth of Virginia government learned about it and they decided after the disasters of three-mile island, they had best put a ban in place," she explained. "However, in 2000, the price of uranium sky rocketed. The owners decided to test the waters and then sued the Commonwealth for not allowing them their personal property rights. Finally in 2019, the Supreme Court concurred that they did not need to be mining uranium." 
In Staunton, the Cremora deposit of manganese was found and produced more manganese than any other single deposit in the U.S. and in WWI, the mining operations were the largest in the world because manganese is used to deoxidize iron and create steel for their ships, rifle barrels, etc. 
Today, manganese is used to prevent corrosion in aluminum and now it's used in batteries for the new electric cars. 
"This particular mine in the late 1880s was owned by Andrew Carnegie and made the mines almost a death trap," Crawford explained. "I found pages upon pages in the Staunton area about how bad these mines were. A new owner came in and cleaned it up but later closed down. However, in 1938, WWII caused the mine to reopen, and again it closed after the war and reopened in 1954 during the Korean conflict, so the National Defense and manganese have a lot in common." 
It is now a retreat that families can visit. 
Crawford said that a particular rock shocked her as she would have placed it in her collection to look at.  
But, in Buckingham County, a geologist seen it and thought he could make a lot of money with the rock called kyanite, to replace feldspar that was used as an electrical insulator in spark plugs for Jeeps.
This mine was the sole producer of kyanite, and the United States is the leading producer in the world.
Craig County holds 25 inactive mines of cobalt, iron, lignite, manganese and nickel. 
Two of these are the Fenwick and Lignite Mines which Crawford shared an aerial view showing them side by side. 
"The Manganese was discovered in 1934 when the U. S. Defense Department had hundreds of tons mined during WWI," Crawford continued. "Then in 1941 the Manganese Mine in Paint Bank was expanded as the U.S. manganese was showing deficiencies and WWII was unfolding." 
An article in "The Roanoke Times" quoted that the manganese in Paint Bank was a much higher grade than that found in Brazil, (which would also require the building of a railroad to gain access). 
Crawford also explained the workings of the furnace needed to produce the product. 
She added that 14 furnaces were in operation during the 19th century in neighboring Botetourt County, one being the Callie Furnace built in 1873 to produce pig iron that was transported to mills in Ohio and Pennsylvania. 
The Catawba Furnace, located on Catawba Creek, was built in 1830 and was a cold-blast furnace. The pig iron produced was hauled to Buchanan and the James River and Kanawha River and sent to Richmond. 
The Grace Furnace, a cold-blast charcoal furnace, located on Craig's Creek near Lignite was built in 1849. 
"In 1856, it was recorded that during a 26-week period, about 900 tons of pig iron was extracted from brown hematite ore," Crawford said. "However, the mine is now in ruins."
She mentioned that when the early settlers were searching for gold, that the iron ore was really the "gold" as it is one of the primary minerals for wealth. 
The Roaring Run furnace was also a cold-blast charcoal furnace, built in 1832, located between Oriskany and Eagle Rock and is preserved and a park today for people to tour. 
She added, "Most of the pig iron produced in its last years was sent to Richmond to manufacture arms."
"When the railroad came in 1837, the iron industry expanded as it aided farmers and flour mills and other industries in the U.S., connecting big cities to rural areas," Crawford shared. "The iron industry expanded in Virginia because of the railroad also." 
"The Chesapeake and Ohio Craig Valley Branch began operation August 24, 1891, and cost 700 million to construct as it was added specifically to develop a large mineral business to feed the main line," she continued. "Crews of convicts assisted in the construction and once complete, C&O held a grand banquet for the convict laborers and the local people."
Crawford shared that there were five stations:
Bessemer at Eagle Rock 

Oriskany – one-and-a-half-mile spur line to Lignite Mine

Barbours Creek – Fenwick Mines spur line to the mines

Va Mineral Springs

New Castle – Craig City (the termination point)
There was a question brought up of when the train station burned down. No one seemed to know that was present, however Glenn Paxton shared that it was there when he went into service in 1966 and when he returned in 1968. 
Gerlene Sizer added, "Back in the 50's they said that they were going to take it out. It took a while for them to go through the negotiations. However, my aunt Susie worked there. They had an outhouse, but you had to walk down the tracks to go to the outhouse next to the pulpwood. Susie complained about it so much because she had to be gone from the station, so they built one there and called it "Susie's Outhouse". 
"The Botetourt/Craig Lignite – iron mine opened in 1899 by the Alleghany Ore and Iron Company. It consumed 250 acres in Craig and 400 acres in Botetourt. The pig iron was used to make cast iron, wrought iron and steel," she added. "At Lignite, it was an open cut mine, where they didn't go underground." 
Crawford had a cloth covering a large item on the table while speaking and when uncovered, a beautiful green colored stone was revealed. 
This came from East Tennessee where her great-grandfather, Samuel Hughes (papa) worked at the Cranberry Furnace mines. 
"The iron ore were high grade magnetite and composed of the green epidote and white quartz. When the processes were complete, this slag was left," Crawford shared. "When I was a little girl, my great aunt had her flower beds lined with these beautiful glass rocks and she gave me this one. My sister and I thought it was coke bottle glass." 
She added that slag can be different colors, depending on the minerals processed there. 
Crawford also spoke of the "human side of mining" which included the sad fact that many miners had to leave after only six to eight months of back breaking labor. 
"There were two rows of 17 dwellings built there plus a boarding house for bachelors," Crawford added. "At its peak, were 300 miners who formed scrappy baseball teams with well-intended games against the neighboring Fenwick miners." 
The town included the company store, a post office, hospital, train depot, saloon, churches, and schools. They even had a theatre and in its prime, there were over 50 buildings there with housing. 
Crawford shared that the community was so close that they had annual homecomings. 
The Historical Society has many historical books, and one included the story about a man and Crawfords' husbands' great uncle, Odelle Crawford, about 18 or 19 years of age. They were in charge of running the iron ore buckets from the mine up to the wash plant. They would run it as hard as they could up there so that they could take a break before their next run. 
C&O ran trains there three times a day, two for passengers and one for freight. 
Craig County Fenwick Mines was operated by Low Moor Iron Company and was the deepest of their four mines. 
"The raw iron was removed from the mines into carts pulled by mules and then onto steam shovels and loaded on a dinky line," she explained. "It was washed to remove sand and clay to make ready to be shipped on the railroad."
"They also did something called "top-sliding" which I thought was horrible," Crawford shared. "They would go in and set up a room where the ore was and lay timbers close together, adding uprights to support the roof, cut out as much iron ore as they could and once removed from the room, they would dynamite and then the top became the floor, as all kept continuing to pancake." They said the ore was so hard so they would blast during the day and let it settle that night before the miners went in the next morning." 
"Water there was plentiful for ore washing and timber also for mining and construction of dwellings," Crawford continued. "It was connected to a spur line from Barbours Creek Station to Fenwick Mine camp and then up Mill Creek to furnaces. 
She included information of the crime back then including an eight year old girl who never returned but three young men were seen following her and one took her life. 
Young children worked the mines as well as it was a hard economy and difficult life. 
Mining census quadrupled between 1900 and 1910, "including immigrants from Italy as the mining companies depended on cheap labor". 
"They were not paid with cash but with company scrip which was only good at their facilities," Crawford said. "If they needed cash so they could come into New Castle to shop, etc. they would exchange the dollar for a smaller amount, therefore they were making money upon making money." 
Crawford also shared many pictures of the mines and people and the mining processes. 
"The forest has overgrown the Fenwick and Lignite Mines, only seeing soil piles. The open pits are now filled with water and serve with ponds," she said. 
She shared an article that had been in the "Daily Review" in Clifton Forge dated 1953 and written by H.L. Switzer, on the occasion of his retirement from the railroad. He was from Craig County, born in 1893 and the oldest of six children. He was 13 when his dad was killed in a mining accident and had to quit school and went to work as an ore washer and picked sandstone and gathered waste from the ore, working 10 hours per day, only being paid fifty cents per day. His mother took in boarders and provided three meals a day to supplement their income for a total of $13 per month. He worked at the mines until he was 22 years of age and moved to the position of fireman and then a brakeman on the little trains and received $1.35 for a day. In 1915 he moved to Clifton Forge and was promoted to an engineer on a locomotive, serving 37 years. He also served in WWI and married in 1922." 
There have been people visiting Craig and the Historical building and Genealogy building to find their descendants names and share their memories with our community members. 
Crawford added the sad truth, "The first generation sees, the second generation hears but the third generation forgets."
She added, "However, the property appropriated to Jefferson National Service and Forestry, creates today's recreational area where people can go and enjoy a walk or picnic."