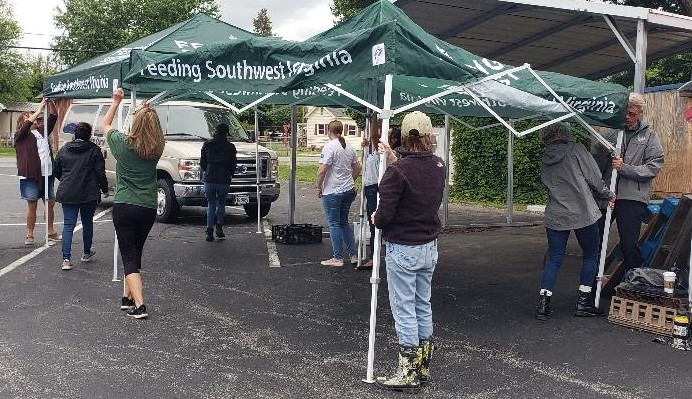 Pam Dudding
Contributing writer
The heavens did not seem to want to give the United way of Roanoke Valley's "Day of Action" community project a break as the rains continued to pour down during the event. 
Though the outside projects had to be postponed until July 19, the food distribution proceeded as planned. 
Volunteers were soaked to the bone, but continued to stack food boxes along with cat and dog food and toys in community members vehicles as they lined up to receive the wonderful things that had been delivered for Craig County residents.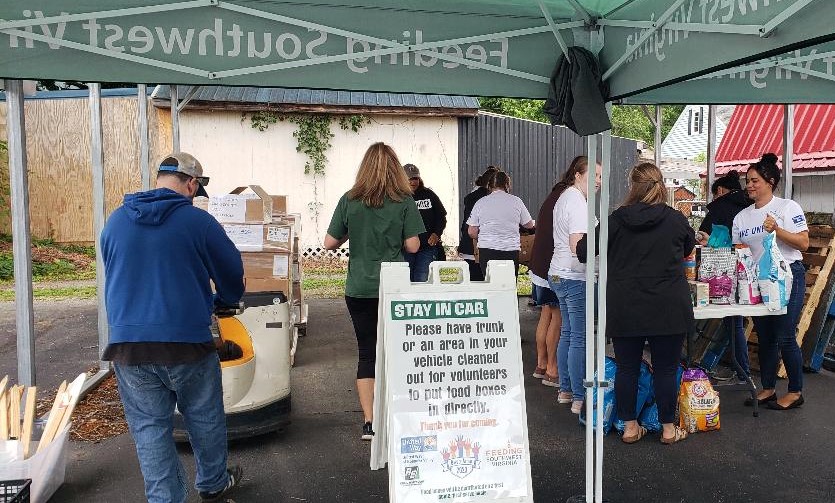 The United Way, Feeding Southwest Virginia and Craig-Botetourt Electric Cooperative teamed up to present this "Day of Action" in Craig, including distributing healthy food boxes. They also had Truist and The Roanoke Times join in as sponsors.
However, there was a surprise for those dog and cat owners. They also had pet food, litter, treats and toys for their animals as well. 
Pat Franklin, director of the county's social services, handed out lots of community information to assist people including: 
The cooling assistance program, which is open from June 15 until Aug. 15. Those interested should contact a benefits worker at (540) 864-5117 to see if they're eligible or to obtain more information. Or call (855) 635-4370 to connect with the Enterprise Customer Service Center or go online at HTTPS://COMMONHELP.VIRGINIA.GOV/ACCESS. 

Feeding Southwest Virginia is at the New Castle Christian Church the second Wednesday of each month, 3–5 p.m., with their Mobile Marketplace, selling produce and products. Those who use an EBT card will receive 50% off the produce. For more information, contact Molly Watkins at (540) 342-3011 Ext. 7046 or

[email protected]

. 

United Way has family councils for caregivers of children up to 5 years of age, to learn about resources and address potential needs. Contact Alexandria Strickler at (540) 283-2776 or

[email protected]

. 

Food pantries are in Craig County which residents can get food assistance at the Department of Social Services, 177 Court St., Monday through Friday from 9 a.m.-4 p.m. and at Craig Valley Baptist Church at 171 Salem Ave, Monday, Wednesday, and Fridays from 9 a.m.-12 p.m.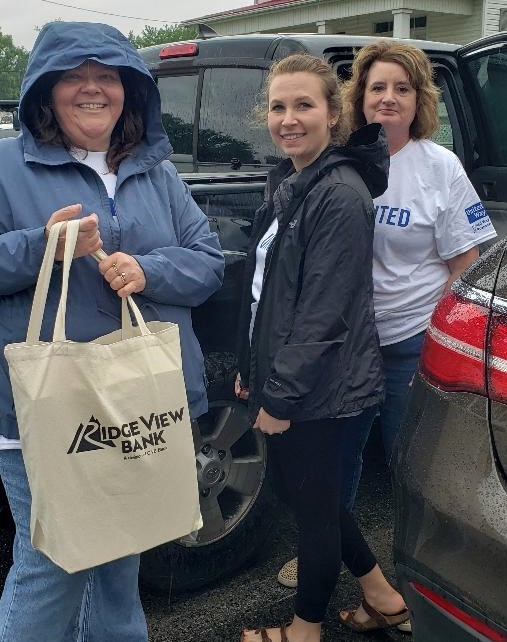 Leslie Clark, director of family health strategies at the United Way, shared that they also had a food drive and divided the food between the New Castle Christian Church and the Department of Social Services food pantries. 
They provided pizza for the volunteers in between the set up and distribution. The time also allowed everyone to meet one another within the different sponsors. 
"All of our food sector partners are reporting so many more people asking for assistance that they had not seen before," Clark said. 
Maiya Ashby, marketing representative of Craig-Botetourt Electric Cooperative, thanked everyone for all their hard work, especially in the rainy weather. 
"This really is what it is all about, giving back to one another," Ashby said. "I am really happy to see you all and hopefully we can partner on lots of community projects in the future." 
"I would like to echo that same sentiment," said Abbey Hamilton, of the United Way. "Thank you to our partners of Feeding Southwest Virginia for being here and serving alongside the community, the volunteers from the church and from DSS. We are all excited about serving with you and want to thank CBEC for their support, and Truist, and The Roanoke Times for sponsoring our activities today, spreading some sunshine and joy today in the midst of cloudy skies." 
The distribution started at 1 p.m., however the line started forming at 12:30 p.m. as drivers pulled in and cut their engines off to wait.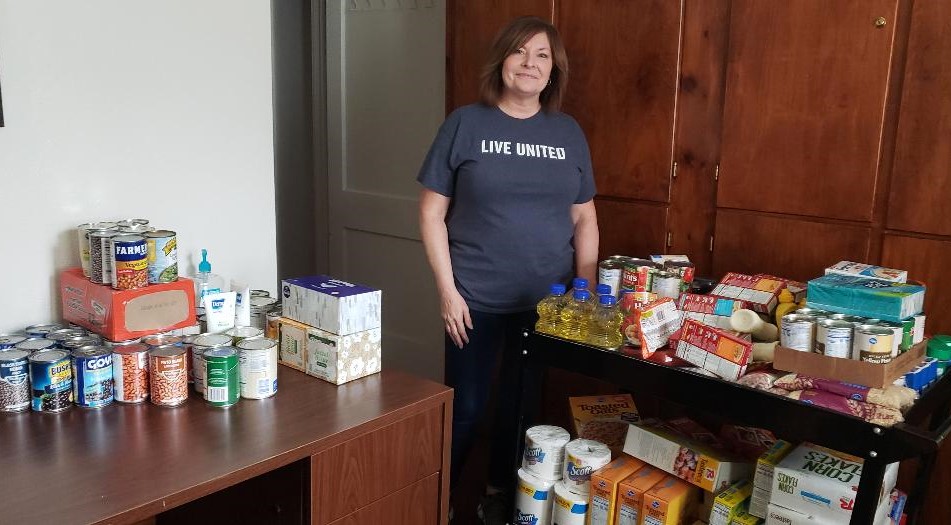 The rainy day didn't seem to dampen the spirits of all the volunteers as they each had "assignments" and were quick to set up and then later to be a part of loading up vehicles. 
As people received their boxes and pet items, there was an abundance of "thank yous" from the residents of Craig County. 
The volunteers all had smiles on their faces as they greeted the drivers, though raindrops were falling from their hats and their heads. 
Residents drove away with smiles, food and a knowing that someone cared enough to help bring food assistance to their families. 
Though there was no pet food or toys left, there were a few boxes left which was taken to The Commons, The Manor and the Craig Valley Baptist Church for their pantry.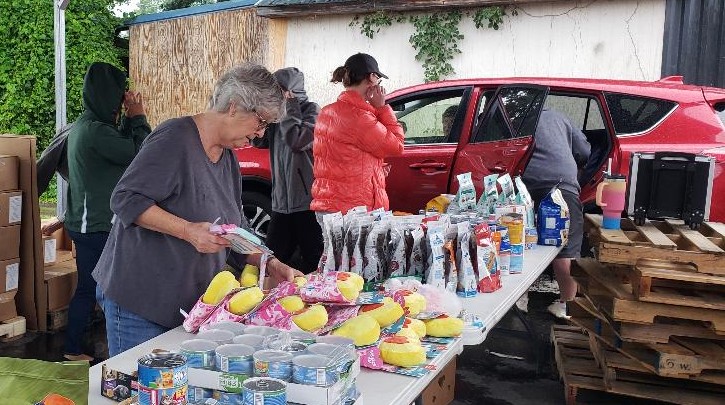 "On behalf of Craig-Botetourt Electric Cooperative, I'd like to share our sincerest gratitude to the amazing team of volunteers who donated their time and kindness to today's food distribution event," Ashby said. "I'd also like to give a huge shout-out to the United Way of Roanoke Valley, Feeding Southwest Virginia, Craig County DSS, and New Castle Christian Church for their continued support and positive impact on the communities they serve."
At the end of the day, 326 31 pounds boxes of food were distributed to Craig residents in need, along with a large amount of cat and dog supplies. 
"This extremely successful Day of Action event couldn't have been possible without the help of each and every one of these individuals," Ashby shared. "We certainly didn't let today's weather rain on our parade."
The day was a great success and the volunteers and sponsors all hoped that it truly did add a little extra "sunshine" in each home.