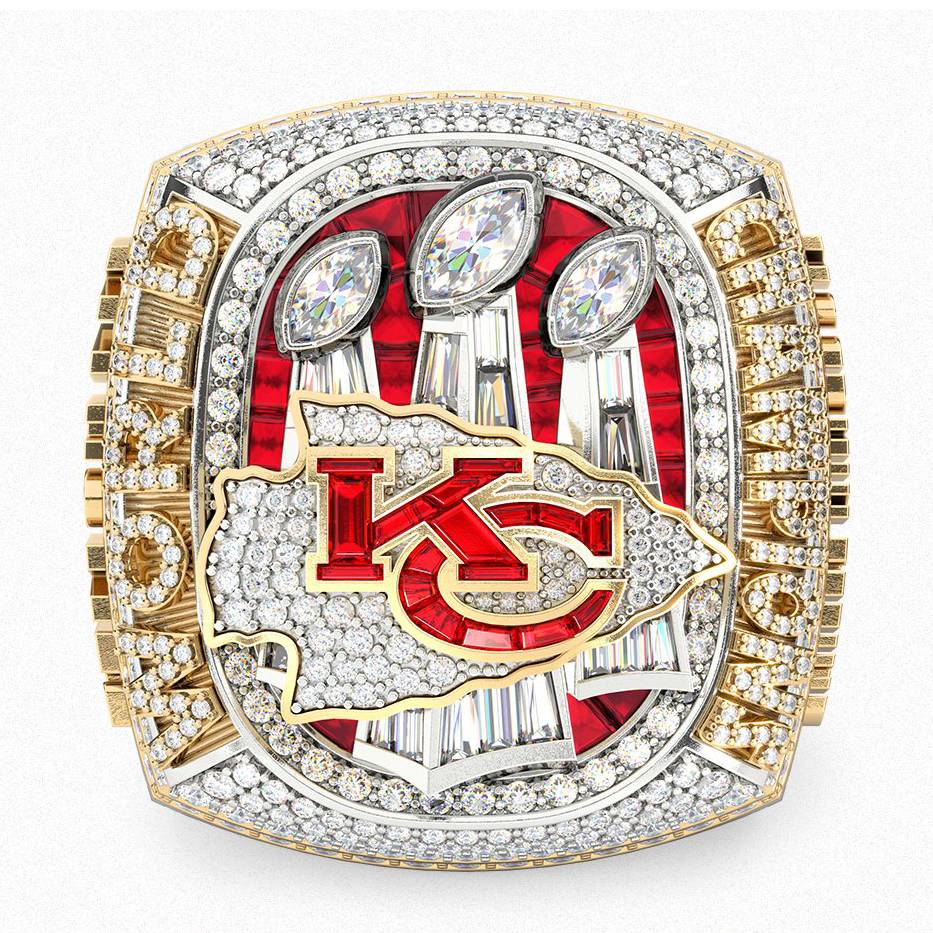 I watched the coronation of King Charles in May and was amazed at the gold and jewelry on display in the crowns, crosses and anywhere you might stick a diamond, ruby or sapphire. Then I saw the Chiefs championship ring.
The Chiefs unveiled their championship rings last week and they're a sight to behold. It seems like every year the current champion tries to out-do the previous one, and I'm pretty certain the Chiefs have accomplished that.
First off, the ring includes 609 round diamonds, 16 baguette diamonds, whatever a baguette is, and four marquise diamonds. That's 629 diamonds on one ring!! If I didn't know better I wouldn't think you could get 100 diamonds on a ring, much less 629.
I'm wondering who all gets those rings. Certainly everyone on the 45 man roster and let's say another five or six on the practice squad. Let's round it off to 50 players.
Then you have the coaches. I checked the Chiefs wed-site and they list 29 assistant coaches in addition to head coach Andy Reid, so that's another 30 rings.
Of course the owner and front office personnel will be included, and a conservative guess would be another 20. So, I'm thinking about 100 of the real rings will be given out. 
I saw an article where over 700 rings were given after the 2020 Chiefs won the Super Bowl, but most of them were "replica" models that went to cheerleaders, support staff and the like. I guess that means it's not solid gold and real diamonds, but it would still be cool to have.
So, let's say 100 real rings are given out, and that's probably a conservative estimate. At 629 diamonds per ring that would be 6,290 diamonds. And I know they're not cheap, because when I bought an engagement ring for my wife 35 years ago I had to save up for a year in advance, and it had just one diamond. Thank goodness she's not a Chiefs' fan.
Along with the diamonds each Super Bowl ring also has 35 custom cut rubies, since the Chiefs' color scheme is red. And, get this, the top of the ring comes off and inside Arrowhead Stadium is revealed with a pair of Lombardi Trophies on the field.
 "Winning a Super Bowl is the crowning achievement for an NFL club, and the championship ring is the ultimate symbol of the hard work, dedication and sacrifice that it takes from everyone in the organization to reach this pinnacle," Chiefs President Mark Donovan said, via a press release.
Okay, that's great, but I'd be scared to wear the thing. It would be like standing outside the casino counting 100 dollar bills. You're just asking for someone to hit you over the head and take off with the ring.
And, in a more practical vein, how are you going to get something out of your pocket? With 664 stones, counting diamonds and rubies, that has be a pretty good sized ring. If you feel a sneeze coming on that would be a challenge to get your handkerchief out of your pocket in time.
From what I can see, this Chiefs' ring might be the most elaborate of all-time. A couple years ago former Bucs' coach Bruce Arians was at a Virginia Tech football game and he was happy to show me his ring. It was very nice, indeed, but I doubt if it had over 600 stones.
I've been to the Pro Football Hall of Fame in Canton many times, and one of my favorite displays is the case with all the Super Bowl rings, starting with the Packers in 1967. It was a ring you might actually wear, but as the years progressed you could see them getting bigger and gaudier every season until now the Chiefs are basically wearing a jewelry store on their finger. 
Shortly after reading about the new rings I was driving through Roanoke and saw a guy struggling to push a shopping cart, loaded with all his worldly possessions, up a hill. All that money going to bling and some folks are struggling to get a bite to eat. 
Makes you think.
GOOD WORK IF YOU CAN GET IT
Speaking of ridiculous riches, did you see where Pat Sajak is retiring as host of the "Wheel of Fortune" TV game show? There's a good gig that will be looking for a replacement.
Sajak, now 76, was reportedly making 15 million dollars a year in 2016, so he's likely making more than that today. And, get this, he works four days a month! He shows up at 8:30 in the morning and films six shows a day for four days, and that's it for the month. Six times four is 24 shows for the month with no weekends.
There's not many jobs that pay that kind of money that I think I could do, but this is one of them. I could read off a card, make a few jokes and tell Vanna White how good she looks. That doesn't seem like a lot of work.
With that kind of money, for that kind of salary, you can see why Sajak stayed on the job for 40 some years. Who would quit that job? And, can you tell me who was the host before him?
I've been on this job for close to 50 years now, and I can assure you it's not because I make 15 million dollars and work four days a month. I'm probably too old to be considered, but if any of you readers out there think you can do it, and are at least as good looking as Pat Sajak, it might be worth a call.
And if you think Aaron Judge is way overpaid consider he's on the payroll for 162 games, plus spring training, and he can do something few can do. If Sajak could hit a Max Scherzer slider 450 feet I might feel differently about him.
In case you were wondering, Chuck Woolery was the original host of Wheel of Fortune when it debuted in 1975. He was replaced by Sajak in 1981 after a salary dispute. Woolery wanted a raise to $10,000 a week but left when NBC wouldn't go higher than $7,500.
Bad move, Chuck.