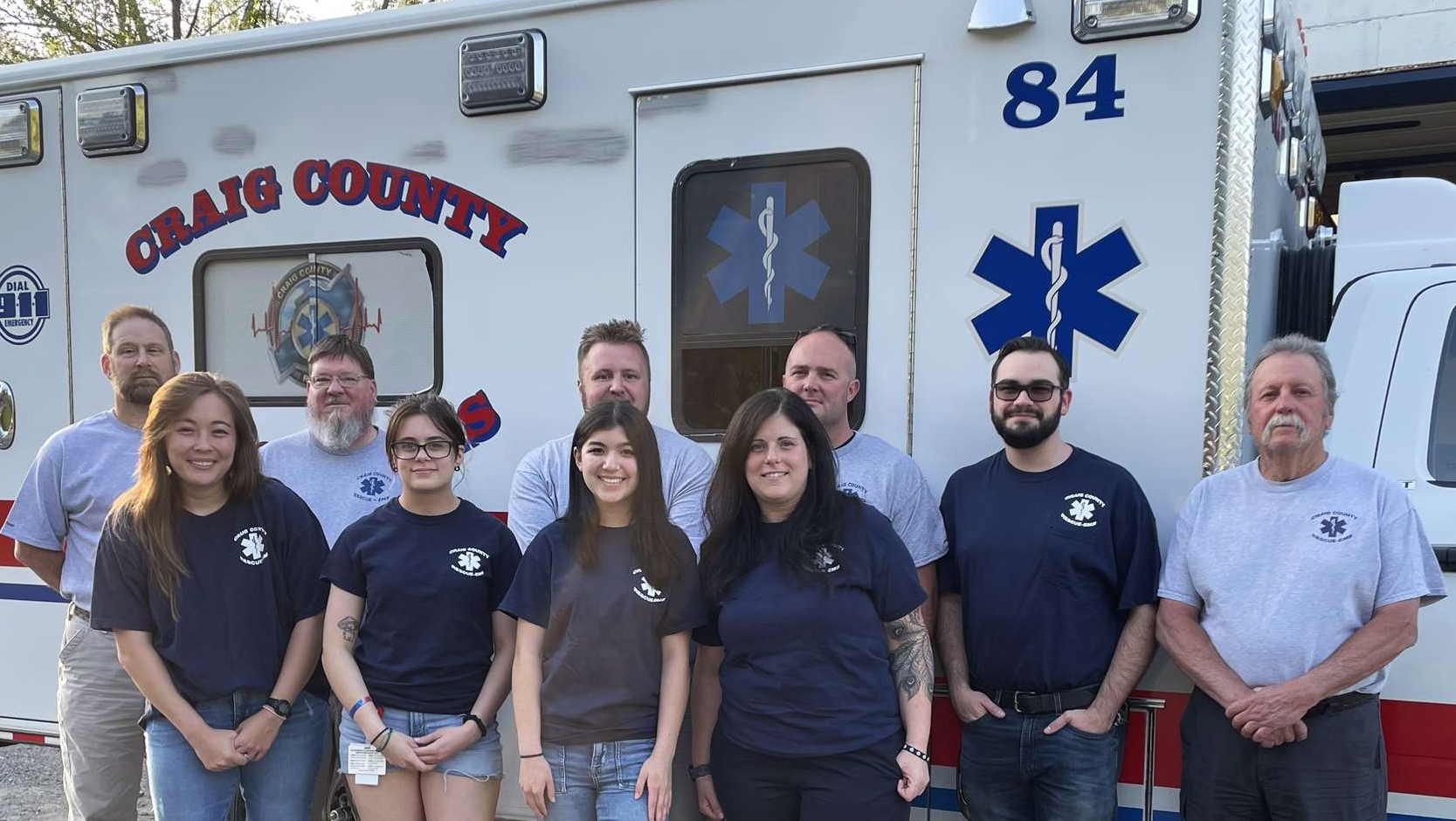 EMT Fall CLASS Flyer May 2023Pam Dudding
Contributing writer
An emergency medical technician, or otherwise known as an EMT, is said to be a person who is specially trained and certified to administer basic emergency services to victims of trauma or acute illness before and during transportation to a hospital or other healthcare facility. 
Craig County's EMTs are known to be quite dedicated, and the department is looking to hire more. 
"We've been doing a lot of hard work to build back up our volunteer force, and I couldn't be prouder of the new members we have at the station," shared Trace Bellassai who is 1st Lieutenant. "In just two years, we have over doubled the number of certified providers we have. Though many of them still need to complete their field training, we know they will all make amazing EMTs when their training is complete."
Some of the new EMTs and Craig County's officers wish to share their sentiments.
Kirsten Gereaux – " I was actually just grabbing some breakfast with my husband at Lasterday when I saw the little postcard about the Rescue Squad needing some help. When I saw that they were offering an EMT class, I decided that it was a chance to be able to serve the community my family just moved to. I am so thankful for the opportunity to serve, and everyone involved has been nothing but supportive and wanting us all to succeed. Everyone with the Emergency Services here in Craig County has a huge heart for their community and I'm proud I got to join and be a part of that team."
Stefanie Sarine – "I am thankful for the opportunity to be able to serve my new community as an EMT in New Castle! When we relocated here from out of state, I fell in love with this area and wanted to find a way to contribute. I decided to take the EMT class and become a member with Craig County Rescue EMS. I have already learned so many valuable lessons and met a lot of really amazing people that I admire and look up to. I look forward to learning, growing, and becoming a valued member of the Craig County community."
Jaiden McDaniel – "Everyone has been incredibly welcoming and supportive. It's a great way to gain a new skill set while meeting people in the community."
Savannah Cady – "My family has been active in the community and especially EMS for as long as I can remember, and I've always looked up to them for it. I wanted to get involved, too, as soon as I could."
Aaron Weiss – "Hi my name is Aaron and I like blood and stuff."
Michael Gereaux – "

As someone who has always felt a strong sense of responsibility to give back to my community, becoming a chaplain with the rescue squad was a natural choice. I am passionate about helping people in need and believe that being a chaplain provides a unique opportunity to serve first responders and the community at large. Drawing on my own experiences, I know how important it is to have someone who can offer comfort and hope during difficult times. By being a source of support and guidance, I hope to make a positive impact on the lives of those in my community and to contribute to the vital work of serving first responders."

Amber Charette, the chief of the career station, has been their instructor and Bellassai added that she has been instrumental in helping them to rebuild the volunteer force.
"I think the fact that she is the career chief but still does so much to help the volunteers is a testament to how well careers and volunteer staff work together in our county, which is a true blessing that many surrounding localities do not have," he said. "We're hopeful that our Fall 2023 EMT class will have the same level of success as last year and look forward to training even more people to serve our community."

To assist the community, the Craig County Rescue Squad will be holding a CPR/First Aid class which will be open to the public on June 24. The cost is $30. 
"We have a few spots we may be able to wave the fee for depending on the situation," Bellassai shared. "People can register at craigrescue.com/cpr."
He added that their next EMT class starts on Aug. 2 at the squad at 258 Paint Bank Road and will be free for those who will be volunteering with the squad for at least a year. The class is otherwise $450, plus $300 for supplies. Online assignments will be due weekly and labs every other weekend. Those interested must be 16 years of age as of the class date and CPR certified. 
"We can help to get you certified if needed," Bellassai said. "Call our officers at (540) 864-5115 or connect at [email protected]."
"I'm very grateful that we have people that still want to dedicate their time to volunteer and give back to the community," Chief Robert Wrzosek added. "We couldn't operate or continue without their support and the community's. I'm excited to see the growth of our agency for continued response within the county for the citizens."