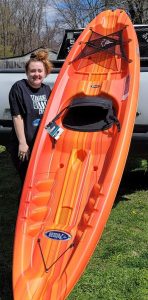 Fundraisers starting on March 4
Pam Dudding
Contributing writer
A "date" that many junior and senior students look forward to every year is their prom. 
The young ladies get excited about picking out beautiful dresses while the gents think about polishing up their cowboy boots as well as their vehicles, adding a little extra chrome (at least in Craig they do). 
This year's Operation After Prom will be held on Saturday, April 29 after the prom, which is from 7 p.m. until 10 p.m. 
It is open to all Craig County High School juniors and seniors and their dates or guests. 
"Students will return to the school after the prom, park their cars and come into the building to change their clothes and "check-in" for the "Operation After Prom," shared teacher and organizer Karen Jones. "The school buses will leave from the school's parking lot at 11:15pm to head to Lee-Hi Lanes for a couple of hours of bowling and games."
They were pleased that in order to save money, they have been given permission to take school buses this year. 
"Around 2am, we will leave Lee-Hi Lanes and head across the street to Thunder Valley for more games and fun!" Jones added. "At Thunder Valley, students will get to enjoy the inside Go-Kart track, Lazer tag, mini-golf, and arcade games."
The night will end at Thunder Valley, where the students will load the buses at 4:30 a.m. and return to the school between 5:15 and 5:30 a.m. 
Jones noted that there will be plenty of food available throughout the night. 
"Also, we will have fun games such as the limbo, "Minute-to-win-it", and the ever-popular tug-of-war game between Juniors and Seniors," she said. "There will also be prizes given away throughout the night and at the end of the night, there will be multiple "Grand Prize" giveaways!" 
Last year, the prizes included a kayak, concert tickets, $300 cash and an Ocular Quest VR headset.  
"All of this will be offered to the students at no cost to them, thanks to the generous donations of businesses and individuals in the community," Jones said. "For many teenagers, the early-morning hours after prom are the most dangerous of the entire year. The purpose of our After Prom is to provide our students with a safe, but memorable experience that keeps them off the roads and away from parties and drinking on this special night."  
To start their fundraising off, Pine Top Restaurant has agreed to donate 20% of all their sales this Saturday, March 4 to the Operation After Prom. Also, some junior and senior students will be there helping in case someone would like to donate as well. 
"We send out a BIG THANK YOU to Pine Top for agreeing to do this for us!" Jones said. 
Those who would like to help fund this event may contact Karen Jones at (540) 312-9285, or mail a check to CCHS Operation After Prom 2023 at Craig County High School, 25239 Craigs Creek Rd., New Castle, VA.  Attention:  Karen Jones.