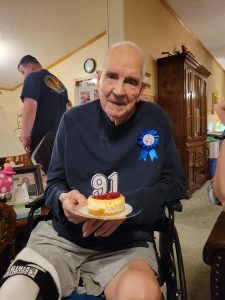 Hubert Viers, 91 of New Castle, VA, (formally of Oakwood, VA) passed away Thursday, Feb. 2, 2023.  He retired from Norfolk and Western with over 38 years of service. Hubert was an avid beekeeper, gardener and outdoorsman. His love for God and the Church span over 60 years.
He is preceded in death by his daughter, Terry Lynn Viers; parents, Ance and Clementine Viers; and brothers, Lucien and Mason Viers.  He is survived by his loving wife of 67 years, Beatrice Viers; son, Charles Alderson (Kathy) Viers; daughter, Sherry Robin (Wendell) Crowder; grandchildren, Jamey Charles Viers, Charles Jackson "CJ" (Stacey) Crowder, Christopher Lucas (Kara) Viers, Matthew Thomas Holden, Jesse Alan Crowder; great granddaughters, Aubree, Emmy and Ada Viers; Allie and Cora Crowder, Brother, Ralph Viers; and many nieces, nephews, brothers and sisters in Christ.
Hubert served in the Army from 1952 to 1954.
The family would like to thank the caregivers from Lewis Gale Hospital and Amedysis Home Health Care for their kindness and compassion.
Funeral services were held at 2 p.m. Tuesday, Feb. 7, 2023 at Paitsel Funeral Home with Minister Pat McPeek officiating. Interment will follow at Crossroads Church Cemetery with Military Rites performed by VFW Post # 4491. The family received friends 6-8 p.m. Monday, Feb. 6, 2023, at Paitsel Funeral Home.
Arrangements by Paitsel Funeral Home: www.paitselfh.com.