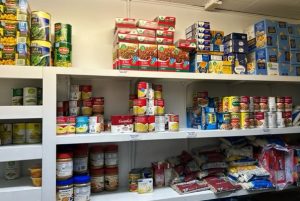 Pam Dudding
Contributing writer
Life today is becoming "more normal," most have said. However, for several families, the duration of the COVID-19 pandemic has left its footprints deep in their lives. 
Due to this harm, many families rely on assistance for the basic necessity of food. 
"We would like to thank the many organizations, companies and citizens that collected food and money for our community food pantry," Pat Franklin, the director of the Craig County Department of Social Services shared. "Botetourt Chamber of Commerce donated a generous $500.00 gift card to Food Lion, the Craig County Library and Food Country did food drives for the pantry that filled the shelves, The United Methodist, New Castle Garden Club, and Mountain Lodge 140 donated food and money for food baskets for families at Thanksgiving and Christmas." 
Franklin also noted that they have several individuals that write checks to support the food pantry on a regular basis.   
"The cost of groceries is going up what seems like weekly," Franklin stated. "Cold days causes energy bills to go up to keep our homes warm and at any given time an illness can take you out of work, or a car repair could leave us all tight to make it through the month. That is when the community food pantry can help."
The department is open Monday through Friday, 9 a.m. to 4 p.m., providing food for anyone who needs a little help to get through the month.  
"The community is welcome to come once a month for food supplies or just when you may find you may be running short one month," Franklin added. "We here at Social Services would like the community to consider us as one of your neighbors and like good neighbors we want to be here to lend a helping hand."
She also noted that in one month one may need a bag of food and the next month that same person may be able to provide a couple of can goods at a food drive.  
"Thank you all for the support you provided over the holiday season and those who provide continue support," Franklin shared. "Without you we would not be able to provide such a valued resource for our community."