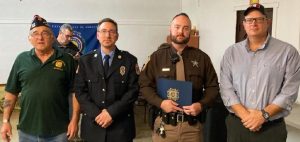 Pam Dudding
Contributing writer 
The Craig Valley VFW Post 4491 has honored local first responders in Craig County for several years, thanking them for their dedication and service to the community, choosing one person from each department. 
This year's award recipients were Fireman – Dan Mathias, Law Enforcement – Gregory May, EMT – Ronnie Allen and Dispatcher – Donna Birtsch. 
They were given an awards ceremony, presenting them with a plaque and a $50 gift card. 
The VFW received letters for each recipient, sharing their reasons for nominating that person. 
Deputy Gregory May was nominated by Sheriff Trevor Craddock. 
"Deputy May is an excellent representative of the Craig County Sheriff's Office and has a dual role with the Sheriff's Office, as he also not only handles the job of Deputy Sheriff, but he is also the animal control officer for the County and strives to do an excellent job for the citizens of Craig in both roles," Craddock shared. "Deputy May has developed a good relationship with the Salem animal shelter and Angels of Assisi in his role as animal control, and truly looks out for the welfare of animals that he comes in contact with."
Craddock added that May has received a Mothers Against Drunk Driving Award in the past for his efforts to keep Craig's highway safer for the public.
"Deputy May is a well-rounded deputy who looks out for his fellow citizens as well as the other deputies that he works with," Craddock said. "No matter what the task whether answering calls for service or patrolling the County, you can count on deputy may to be ready willing and able to handle any task presented to him."
May shared, "I was honored in receiving this award. I love working in this county as it has its perks knowing who most of the people are, but then there are situations where I respond to calls, and I know that person and they committed a crime. I do my job and treat them just like I would anybody else." 
Craddock nominated Dispatch Supervisor Donna Birtsch for the dispatcher of the year award. 
"Donna started full time with the Craig County Sheriff's Office in 2004 as a dispatcher and was promoted to dispatch supervisor in 2016, and as Sheriff, I cannot say enough good things about my dispatch supervisor," Craddock shared. "Donna is very committed to the Sheriff's Office staff and the staff she supervises and assists in her day-to-day job as dispatch supervisor."
He added that Birtsch also dispatches herself and she takes care of the day-to-day office administrative work. 
"Donna makes sure that the citizens of Craig County receives the help that they need when they call 911 or they call the non-emergency number for assistance," Craddock said. "She makes sure that all shifts for dispatcher are covered and is more than willing to jump in and fill a shift as needed. Also, she is constantly making sure that she continues her training and sees to it that her dispatchers continue to keep their certifications as well. Craig County is very fortunate to have such a dedicated individual to lead our dispatch staff."
The Craig County Rescue Squad nominated Ronnie Allen who joined the rescue squad in 2021. 
"He began taking the EMT course, and after obtaining his NREMT certification, he has been diligently working his way volunteering shifts for county coverage," Chief Robert Wrzosek shared. "Ronnie is a driving force when it comes to getting things done at the station and helps push other members to be more active."
Brian Lipes, the Chief of Simmonsville Volunteer Fire Department, nominated Dan Matthias. 
Matthias joined Simmonsville Volunteer Fire Department in January of 1990 and has been an active member with 32 years of service. 
"He sacrifices hours of his time each day to serve the community and has put in many hours of training to be efficient in firefighting," Lipes shared. "Dan has a Firefighter 2 Certification, Hazmat Operation Certification, Basic First Aid and CPR Certification, plus many more training certifications."
Lipes added that in the fall of 2021, the department decided to expand its service by purchasing a UTV for brush fires and search and rescue on the Appalachian Trail and other issues through the county as their department has experienced an increase in calls of this nature on the Appalachian Trail and in hunting accidents in the past couple of years. 
Matthias "took the lead on this project and was instrumental in receiving quotes and information" on several UTV's, which helped the department with their decision to move forward and put the UTV into service as early as the spring of 2022, as Matthias also secured a trailer to haul it on.  
"The UTV is available to all Craig County Fire and Rescue Departments, Sheriff Department, and surrounding counties when needs arise," Lipes said as he explained that they have utilized the YouTube video on several calls this year on the Appalachian Trail.
"On the morning of February 27, Simmonsville FD was dispatched for a motor vehicle accident with entrapment. Dan was the first member to arrive on the scene of the accident and relayed valuable information to the chief and first unit enroute to the scene," Lipes explained. "This call was time critical, and the information allowed me to expedite what equipment, resources, and personnel was needed to handle the situation that we were facing that morning. This incident turned out positive due to dance training and ability to pass along the urgent information."
Lipes shared, "Dan is very dedicated with his service to Simmonsville FD and is greatly appreciated. The volunteers throughout our county provide many hours away from their homes protect you, the citizens of Craig County. If you know any volunteers in this county thank them for their service."
Dan shared that he has been with the department for 30 years. 
"I was actually shocked as I don't expect to get recognized," Matthias shared. "I always have a heart of giving back to community, as I come from people who always gave to community, it is second nature. Still, it about made me cry when they were reading it. I have always had an interest in the fire department. My wife grew up here and when we moved here, I joined. It is that heart of servitude."
He added, "The department has done a lot for my family too as my son is a paramedic. He is now a fire fighter for Augusta County and learned in Craig County." 
"The fire fighters and EMT's are always looking for members if you have any interest," Matthias shared. "You don't have to be a fire fighter as there are tons of opportunities to do other things. Wives and others help, and there is so much logistics to having a fundraiser and events to help out. The problem now is that all of us are getting older and not as many taking interest and membership is down."
Commander Billy Lee added, "It's the least we can do to show our appreciation for the men and women who give their time to help us."