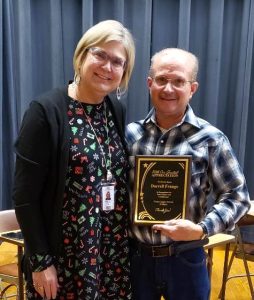 Pam Dudding
Contributing writer
The Craig County School Board members addressed a range of topics at the December meeting. 
Recognitions began the meeting, as Superintendent Jeanette Warwick recognized Darrell Frango for 20 years of service. Appreciation gestures were also given by each board member. 
The agriculture teacher, Ms. Nolen was recognized as her Craig County High School agriculture program was awarded $10,000 by the Farm Credit of Virginias, in support of her Land Lab project.
Warwick noted that over 70 grant requests were submitted and only 12 were funded. 
Warwick shared, "Nolen is continuing to work on our Land Lab, and it is growing. Every day we are getting support from our community members and organizations. We now have sheep and goats and new baby calves. They completed one round of raising the cattle and taking them to market. Also, she was recently featured on Channel 7 on the Land Lab."
Warwick also recognized three students for winning the Christmas card contest within the school. The winners were Dixie Wyrick, Elena Sizer and Cheyenne Combs. 
"They received a certificate of recognition and a $10 Subway gift card. We will be sending these out to all the county officials a digital Christmas card," Warwick said. 
J.D. Carlin, of Blue Ridge Behavior and Healthcare, was present to ask for permission to conduct a survey within the school. He noted that they have been doing this survey every two years since 2005. 
It is a survey to middle and high school students, with permission letters that go to each student's parents for approval for them to answer the questions. The survey is anonymous, and the data is done online. Virginia Tech collects and analyzes the data.  
"When we found out that the Department of Social services were not able to do the Angel Tree this year and our community members had to send their names to Roanoke and they had to physically go to Roanoke, we had a team of counsellors and other staff that organized their own event, called the Light Up A Child's Life Christmas event," Warwick shared. "Food Country allowed them to set up a tree with Christmas bulb tags on it, which had the items needed listed on each and the response was overwhelming."
Approximately 30 families received assistance and 60 students. 
Warwick noted that they continued to receive donations therefore were able to reach out to more families as well. They also set up food items where families were able to shop for what each individual family preferred. 
"I want to do a big shout out to our staff who all pitched in," Warwick exclaimed. "They decided to bring back the winter dance and Snow Court, which I understand use to be a tradition in the past. The JVG class planned it with CCHS office staff, and they raised over $2300 to purchase these gifts, using this as a lesson also. I am very proud of what our small community did!"
Warwick reported that she and other staff members attended a School Safety Committee meeting and learned much. They are working with the sheriff's department and emergency services to number the doors in such a manner that makes it easiest for the first responders to recognize. 
Also, window coverings arrived for those rooms that did not yet have them. 
They will be scheduling a hands-on training for staff and a desktop active shooter drill with the sheriff's department and emergency services.
Virginia Department of Education conducted an on-site academic review of McCleary Elementary focusing on science in December, visiting classrooms and looking at lesson plans, giving suggestions to the staff. 
Warwick announced that they are happy to introduce the new social media platform. 
"It is very simple, go to the app store and download Craig County School app, so everyone can be accessed right from your phone," she said. "We will be sending out more reminders to parents that this is available, as we have already received a lot of positive feedback from the community as most of us access through our phone and the old website was not compatible." 
Warwick noted that during the fireside chats that she and Trace Bellassai had, some teachers had expressed their concerns about scheduling.
"In order to make a well-informed decision, I conducted a survey of the high school teachers which were effected," Warwick shared. "Of the responses, nine were in favor of block, eight were in favor of six period, a 50 % split but five had no preferences and seven nonresponses, though I sent it out numerous times."
Therefore, after Warwick met with the principal and other administration, the school will be moving back to six period day for the next school year. A couple classes need two periods, and they will be looking at those. 
She noted that keeping students engaged for over an hour was sometimes difficult. Also, inclimate weather causes it difficult to make up during a block schedule. 
When students leave in May, they will have their schedules so they know which classes they will have in the fall. 
The Virginia Association of School Board Superintendents and the Virginia Association of School Business Officials have their annual meeting Jan. 10, therefore the monthly School board meeting will be moved to Jan. 17. An annual walk-through will be at 4:30 p.m. and the regular meeting at 5:30 p.m.
The General Assembly had mandated that the school board approve a policy addressing the issue of sexually explicit content of materials. 
"The policy was created by the Family Foundation and in line with parental permission. If they are not G rated, we have to receive family permission," Warwick explained. "The principal will maintain a list of approved videos and submit it to the Superintendent for review and final list will be sent to the School Board for approval. No teacher can show any video that has not been approved."
The model policy was approved by the Board.
The January meeting was moved to Tuesday, Jan. 17 at 5:30 p.m. in the auditorium. 
Community members are always encouraged to attend, or to watch it via internet to stay abreast of the issues the Board and Craig County Public Schools staff and administration continue to address. 
A Merry Christmas was sent to all and a Happy New Year.