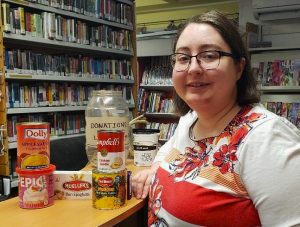 Pam Dudding
Most small towns have few businesses whom a group can go to for support and though Craig County is considered one of those, their hearts are big and generous. 
The Craig County Library has always strived to bring as many benefits to the community as possible yet struggles at times with financial means to do so. 
However, over the last several months, businesses in Craig County have answered a call to an idea which has proven successful to their needs. 
"Every month we went to a local business to see if they would donate a gift card that we could raffle off monthly for the library," explained Michaela Crawford, the librarian and program coordinator. 
The raffle tickets were on sale at the library check-out desk. They also sold tickets during special events, such as the Fourth of July parade and Memorial Day. 
The ticket donation was between $1 to $3 each and were sold from the first of each month with the end of raffle being the last working day of the month. 
"Individuals left us with their name and phone number and at the end of the month a name was drawn as the winner of the gift card," Crawford shared. 
They only have means to accept cash. 
The local businesses that have graciously donated gift cards thus far for Craig County Public Library's local monthly business raffles are Pine Top Restaurant, Lasterday Market, The Emporium, Helms True Value, Food Country, Subway and IGA Express. 
"The purpose of the raffles were a fundraiser for supporting our programming and events," Crawford explained. "We are hoping to increase our community outreach especially with children's programming, however, COVID put a damper on our ability to have and host events."
She added, "Our summer reading program last summer was one of first events since the beginning of COVID and we are hoping to have bigger and better with each year and more and more community involvement."
They stopped the raffles in September for the Fall Festival raffles. 
But they are currently having a food drive during the months of November and December to benefit the Craig County Department of Social Services food pantry. 
Community members can drop off donated food items at the library to have their name placed in a drawing for a $10 gift card. The drive will end on Friday, Dec. 23, and they will draw the winner for the gift card that day as well. 
"We have collected eight boxes of food to donate to the food pantry thus far," exclaimed Crawford. "We thank you all so much for your kindness and caring. We are blown away by the generosity of our small community."
Crawford recognized the Craig County FFA also as they assisted in collecting food items for the pantry. 
Their hours are: 
Monday, Tuesday, Thursday, Friday – 10 a.m. – 6 p.m.

Wednesday – 10 a.m. – 7 p.m.

Saturday – 10 a.m. – 4 p.m. 

Sunday – Closed
They hope to restart their monthly raffle program in the new year. 
If any business wishes to donate a gift card or other items for their fundraising raffles, please connect with them at [email protected] or call (540) 864-8978. 
Crawford shared, "We greatly appreciate all of our local businesses and hope to work closely with them in the future to help strengthen the unity and functionality of our small community!"