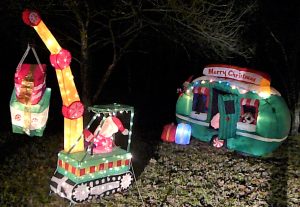 Pam Dudding
Contributing writer
The Christmas season has arrived, and people have already started putting up their Christmas lights and trees. 
Posts are flooding the Facebook pages as many exchange comments about them all, both funny and sentimental.
And, in Craig County, the 2nd Annual Christmas Decoration Contest is now underway, sponsored by the Craig County Rescue Squad. 
The deadline to enter is Dec. 16 and there is a $25 entry fee.
The prize is $200 cash. The winner will also receive a $100 gas gift card, donated from IGA Express Exxon or Gopher Market. 
To enter, go to craigrescue.com/lightupcraig, email them at [email protected], check out the Facebook page or connect with Robert Wrzosek or Trace Bellassai or call the volunteer station at 540-864-5115 to leave a message and someone will return the call. 
The judges will be coming around to the homes on Dec. 18 and 19.
Contestants will be judged in three categories: Creativity (originality, unique design and creative use of lights and decorations), Arrangement (display and placement of decorations) and Overall appearance (color coordination, balance, and overall attractiveness). 
Also, there will be a "community favorite" chosen by members of the community via online voting which is sponsored by the local IGA Express Exxon. So, those who are interested may participate online! They will win a $100 gas gift card, donation from IGA Express Exxon or Gopher Market. 
Last year Darrell Frango took first place with a driveway filled with blow up decorations, his home and garage lined with lights and on the inside of his home, every room was filled with Christmas cheer, each having a different theme. 
"It takes me several weeks to get this all done," Frango shared. "I've done this for years and keep adding to my collection. I love it!
"We are excited about the contest again this year," shared Trace Bellassai from the rescue squad. 
They are hoping more will enter this year, creating a great list of homes for everyone to drive by and admire. 
The list of decorated homes will be at https://craigrescue.com/lightlist.