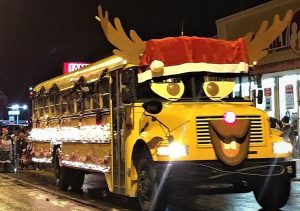 Pam Dudding
Contributing writer
To watch a child display such excitement when they intently gaze at a parade pass by, is heartwarming and seems to bring out the youthful spirit in everyone. 
Craig County will be having its annual Christmas parade on Saturday evening, Dec. 3 at 6 p.m. this year. 
It will leave the Craig County Fairgrounds at 6 p.m., follow Salem Avenue (Route 311) to Main Street where it turns and proceeds two blocks to the courthouse. 
The fairgrounds will open at 4 p.m., if those who are participating wish to decorate their entries there. 
Entrees can include any vehicles, tractors, motorcycles or four-wheelers, floats, groups, or clubs to walk, and any other creative safe means that brings life to a parade. 
Mr. and Mrs. Santa Claus will be at the courthouse to give out candy and to talk to find out what the kids are asking for this Christmas. 
Packs of candy will be given to each child, compliments of the Craig Botetourt Electric Cooperative, which Angie Guthrie-Ponton of Guthrie Insurance packaged for each child. 
They ask that all participants in the parade to be at the fairgrounds by 5:30 p.m. to line up. No advance sign up is required. 
Floats and lights with music are encouraged and they ask that candy not be thrown from the vehicles this year, to prevent kids from running in and around the vehicles passing by. 
For more information on being an entry, contact Kathy Jones at (540) 864-5010. 
Come early and grab a good spot to sit, either on Route 311 or Main Street, and enjoy a fun evening in New Castle.