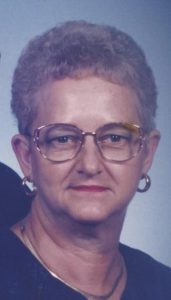 Nov. 7, 1939 – Nov. 5, 2022
Geraldine Duncan Burger was welcomed home by her Savior, Jesus Christ, early Saturday morning, Nov. 5, 2022.  She was proceeded in death by her loving husband, Robert (Bob) Burger; parents, Ivery Green Duncan and Nora Bradley Duncan; sister, Marie D. Damewood; sister, Evelyn Sheppard; brother, Quentin M. Duncan (Buzz); and nephews Kevin Sheppard and Dale Duncan.
Geraldine is survived by her sons and daughters, Bobby and Amy Burger, Eric and Brooke Burger; granddaughters, Haley Burger and husband Greg Steeves, and Olivia Burger; brother Calvin (and wife Patsy) Duncan; sister-in-law, Lenore Burger; and numerous nieces and nephews.
Geraldine was born and raised in New Castle, Va., and remained a Craig County resident her entire life.  She was happily married and devoted to her husband, Bob Burger, for 61 wonderful years, until the end of his life in 2019.  She was a faithful member of New Castle Christian Church, where she served as a teacher, deaconess, and church clerk.  She was employed at Halmode Apparel, and later as a cafeteria manager for Craig County Public Schools.  She also took pride in her role as a homemaker where she watched and loved numerous children, alongside her own.  Many children and young adults came to call her house "home", where she always offered a meal and a Dr. Pepper.  Her most precious role came after retirement, where she loved and cared for her first-born granddaughter.
The family would like to express their sincere thanks to Salem Health & Rehab, Lewis-Gale Medical Center, Craig County Sheriff's Department, and the Craig County EMS for the exceptional senior and medical care given to Geraldine. The family would also like to express their gratitude to the many employees and volunteers with LOA, and the special friends and family who were instrumental in her wish of remaining at home the last couple of years.
A memorial service was held at 12 p.m. Saturday, Nov. 12, 2022 at the New Castle Christian Church with Bill Frazier officiating.  The family received friends from 11 a.m.-12 p.m. before the service.  In lieu of flowers, the family wishes for donations to be made to the LOA – Area Agency on Aging (Meals on Wheels), or the New Castle Christian Church Building Fund. 
New Castle Christian Church (Building Fund) PO Box 287, New Castle VA. 24127
LOA – Area Agency on Aging PO Box 14205, Roanoke, VA., 24038-4205