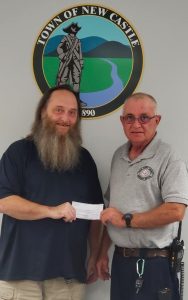 Pam Dudding
Contributing writer
Though the road towards implementing the new cigarette tax, which was imposed in Craig County this year, was rocky, good things seem to be coming from it. 
Initially, the county administration wanted the tax to help supplement the EMS division in Craig. Reasons given included there are less and less volunteers, paid EMS workers were difficult to find and even harder to keep, and competing counties had more funds to pay which caused the current workers to have to pull extra hours every week. 
Darryl Humphreys, the emergency management/services coordinator, attended public meetings and informed the members of the situations he was confronted with on a daily basis. 
Both New Castle and Craig County chose to transfer the taxes collected to the EMS department. 
On Monday, Oct. 17, the New Castle Town Council presented Humphreys with its first quarter check of over $17,000. 
"I would like to thank New Castle Town Council for their collection of the cigarette tax money," Humphreys shared as he thanked the council members. 
"This is the first quarter of our cigarette tax, and we will continue to write them checks each quarter," shared Councilman Tommy Zimmerman. 
Though the town was not in favor of initially being involved in the cigarette tax stamps, they did so in support of their local businesses and chose to keep the tax at a 2% rate instead of a 4% rate. 
"We will continue to support our EMS with it as it was initially intended," Zimmerman added. 
"The cigarette tax from the county is already earmarked in the budget for EMS," Amy B the emergency management/services coordinator, ryson, the executive administration assistant at the Craig County administration office shared. 
"The money collected by the town and county is used for emergency medical services career personnel staffing needs for the town and county," Humphreys said. "We are greatly appreciative of these funds."