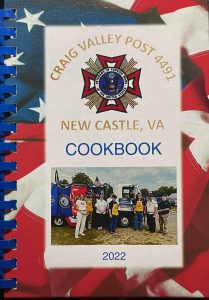 Pam Dudding
Contributing writer 
The local Craig Valley VFW Post 4491 created a cookbook that includes unusual recipes that likely can't be found anywhere else. 
The Craig County VFW Post 4491 "Recipes to Remember Cookbook" has over 350 recipes and ideas for everyone to enjoy, including appetizers, beverages, soup, salads, main dishes, vegetables, side dishes, desserts, cookies and candies. Wild game receipts are also included. 
A local resident, Michelle Songer, suggested the idea of a cookbook to the VFW a few months ago. Once approved, she took it by the reigns and with the help of a few others, received the recipes and completed the submission for print. 
She had read where the VFW group needed to make some improvements at their post and decided it was time to go to action. She contacted a couple of people who had assisted the VFW in other projects and started her venture. 
"I was really nervous at the beginning. I've never taken on a project this big or that mean so much to me," Songer shared. "Supporting our military has been a goal for so long. Each and every day, no matter what, they serve us." 
She added, "Meeting people in the community and sharing their favorite family recipes was exciting. Once I got started my nerves calmed down and I knew this would be great!"
The cookbook will be available at the VFW Post at the Fall Festival Saturday, Oct. 8 for $15. 
Those who are interested in the book but won't be at the festival can contact Songer at [email protected] or VFW  Post Commander Billy Lee at (540) 864-6169.
"I pray this helps the VFW and they can do what they need to do," Songer said. "I'd also like to thank everyone again for all their help. This has been very humbling."