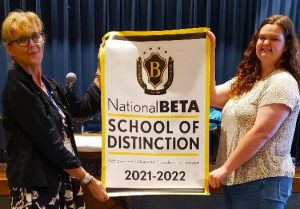 By Pam Dudding
Who says small schools can't perform like larger ones? I for one am one who believes you can do anything you set your mind and will to do. 
Thankfully, we have many teachers, staff and administration at Craig County Public Schools who believe this as well.
Last year, the teacher who had been the sponsor for the BETA Club for several years moved to another school. This left our Beta Club without a sponsor. 
Principal Susan Stimeling shared that she was able to encourage Alivia Garman to be the new sponsor this year. 
"She put in all of her effort and heart into this, being a former Beta Club member herself and now has made our school a National Beta School of Distinction," Stimeling said. 
Stimeling read the letter from the National Beta Club: "Congratulations to the National Beta Sponsor and Beta students in your school for achieving National Beta School of Distinction status. This National Award speaks highly of your commitment to academic excellence and dedication to prepare your students for their future. National Beta is the nation's largest independent non-profit educational youth organization. We are committed to recognizing and promoting high academic achievement, rewarding, and nurturing worthy character, improving student leadership skills and encouraging students service to others. The students in your school understand the importance of these qualities and exemplify the Beta motto, 'Let us lead by serving others.' Thank you for all you do as an administrator in supporting the success of your staff and students. A National Beta Club in your school provides an experience that allows students to achieve lifelong goals. We appreciate your continued focus on fostering activities that ensure that all students can achieve success."
Stimeling presented the new banner to Garman, sharing, "I take no credit for this award."
Superintendent Jeanette Warwick added, "We very much appreciate your dedication and sponsorship, being your first year of teaching. Congratulations."