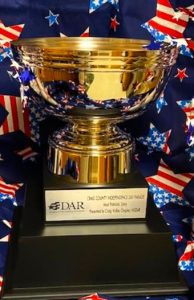 By Pam Dudding
What a grand day to celebrate – July 4, Independence Day for our nation! 
This year, the Craig Valley Daughters of the American Revolution will be hosting a parade, with the winner taking home a beautiful Patriot Cup trophy. 
They will have a Grand Marshal and are inviting anyone to enter their float, vehicles – whether antique or of today, etc. for the competition and also to display your patriotic appreciation to the United States of America. 
This includes floats, horses with riders, classic and vintage vehicles; clowns, and musical entries.  All entries must use a red/white/blue patriotic theme. 
"There will be a 'Bikes, Trikes & Wagons' group for children to ride their tricycles, bicycles and wagons, decorated patriotically," shared Tina Crawford, organizer. "Parents should plan to walk with small children along the parade route."
Each child in this group will receive a participation ribbon and there will be a drawing for prizes within the group. 
This group is being generously sponsored by Jim and Pat Cady.
The DAR are still accepting registrations for parade participants. Interested parties may contact Crawford at 540-765-9913 or via email at [email protected] to obtain registration forms.
The Parade begins at 10 a.m. at the Fairgrounds and will continue to the Courthouse.
"The DAR and Craig County Tourism Council look forward to making this an annual event, growing each year so that by America's 250th birthday in 2026, and for years beyond, it becomes a beloved community event, growing bigger each year," Crawford said. 
They are also in need of more volunteers. 
"We want this to be a fun parade for young and old and have it continued as an annual event," she added.