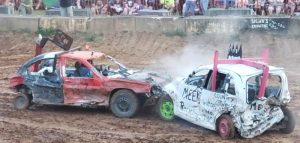 By Pam Dudding
The Demolition Derbies in Craig County have always been known for the drivers that hold nothing back, even when they are in the ring, driving against family.
This year's June derby opened the gates to many drivers from other neighboring counties. Though anyone has always been welcome, it seems the word has gotten out and more and more are joining in the demolition challenges at the Craig County Fairgrounds derbies.
After the passing of our one and only Sammy Huffman who has been the emcee for the last several years BJ Oliver asked David Looney if he would return.
He shared that he had emceed the demolition derby for quite a few years previous to Huffman taking the lead. Huffman had been a derby driver for years.
"A few years ago, on a weekend when Mike had to have me on the race team, Sammy substituted," Looney shared. "After that I said, well they have a good one now, so they don't need me!" Looney agreed.
"Everybody is so much younger than me now!" Looney shared after he went around and spoke to each individual driver before the heats started.
Dustin Price was at the ring, with Metal carnage TV recording the Derby so they could post it on YouTube.
They also sponsored the Mad Dog awards which goes to the craziest and hard hitting-est driver out there. They pick the winner of each class. This year they made some awesome looking trophies.
Looney gave appreciation to the upper Craig Creek Volunteer Fire Department and the Craig Emergency Service as well as our local Sheriff's Office for being at the Derby to provide the best safety.
Coley Fisher walked the pits and cleaned up all of the old car parts from the previous Derby. Looney asked him if he found any good car parts out there? With the track nicely wet down by the UCCVFD Looney invited the first heat to enter the ring.
The boisterous noise from the crowd and cars came to a reverent quiet as The Star-Spangled Banner was played. The countdown started. Drivers revved their engines and the first Small Car Heat began.
Drivers were Charlie Foutz – 38 from Craig0, Zachary Peters – 17 from Craig, Baby Grant Oliver -07 from Craig, Chad McDowell – 13 From Craig, Matt Huffman – 88 from Craig and Taylor Cadd – 03 from Bedford.
They started the countdown, the horn blew, and metal started crushing. 13 and 38 were the first to hit. 17 rammed 38 into the wall, crunching and lifting the rear of 38.
07, 17 and 13 had a few blows while 03 and 13 shared the wall and 88 came in for a real hit.
Top three winners were, Zach Peters – 17, Grant Oliver – 07 and Chad McDowell – 13. The second heat started with tires wildly spinning as drivers didn't hesitate.
They were Mike Rogal – 819 from Lexington, Nathan Lindsay -24K from Hot Springs, Kenny Collins – 27 from Elliston, Chris Boyd from Danville and Taylor Cadd – 03 from Bedford.
Hits started immediately and crunches were many. After several hits, 819 was running on what looked like two tires and two wheels.
Many decided to dance in circles in the middle pushing one another. 27 gave 03 a good ram up into the corner. Dust was so thick it was difficult to see as hard hits were happening. 03 rammed 27 and then 819 decided to ram in as well.
Top three winners were Mike Rogal – 819, Kenny Collins – 27 and Taylor Cadd 03.
The third small car heat started with Sam Dillon – 18 from Craig, Michael Gailmard– 45 from Hedgeville, WV (he built his car in one night), McKenna Lyndsay – 20 from Hot Springs, Brandon Malcolm – XI from Blacksburg and Josie Foutz – 17 from Craig.
20 and XI start pushing nose to nose and 17 comes around to separate them while 18 cuts in the middle of them all.
18 does a little dance around with 20 as 17 then decides to push 20 around a bit. XI rammed 20.
More big hits were being made every second as no one let up. 17 pushed 18 against the wall, then 18 drives around and rams XI and 17 joined in hitting XI in the
front end.
Smoke started filling the air as radiators got hot while others blew with hits. 20 was hit hard and his right front wheel cocked outwards. 18 danced again with XI while 17 rams them right in between. 18 rammed XI and 17 joined in.
A group tango went on in the middle of the ring with 17, XI and 45. Looked like they were having fun as this was the longest heat of the night. XI pushed hard and pushed 17 backwards and 45 decided to cut in. Each backed up and come in for
another good hard hit.
XI is rammed to the wall and his rear tire is spinning, not even touching the ground. The heat was over.
Top three winners were, Michael Gailmard – 45, Brandon Malcolm – XI and Josie Foutz – 17 (You go girl!).
The Crusher heat was next. Any driver could enter that could get their car started that weren't in the top three of each of the previous heats.
Three drivers made it, Andrew Holcome – 37, McKenna Lyndsay – 20 and Matt Huffman – 88.
20 hit 37 and they both hit the wall. 37 rams 88 and then comes around for another huge hit. 37 backed into 88 and was spinning but finally got out. 20 pushed a little hard and smoke started billowing.
He was spinning but not going anywhere as the smoke gets thicker as it looks like the radiator is busted.
37 hits 10 in the front, adding a bit more smoke and the bumper goes off. 20 isn't giving up as he steers to the left, but the car goes straight. 37 cut out as he's stuck.
20 and 37 are the winners to join in the Small Car Finale heat.
The drivers for the small car Finale heat are, Zach Peters – 17, Baby Grant Oliver – 07, Chad McDowell – 13, Mike Rogal – 819, Kenny Collins – 27, Taylor Cadd – 03, Mike Gilmard – 45, Brandon Malcolm – 11 and Josie Foutz – 17. McKenna Lyndsay – 20 and Andrew Holcomb – 37 made it from the Crusher round but were too crushed to make the Finale.
It was a full ring with all the cars, so everyone knew it was going to be a good heat! Drivers were ready for the horn to blow at the end of the countdown. Seemed many knew exactly what their first move was going to be.
45 pushed 27 and many hit, backed up, hit again and drove around to hit another. The ring was full of excitement!
819 went all the way up the wall. 13 backed into 11 and pushes 27, but 27 comes out tires spinning but then gets hit by 13 as 45 join in.
Mud was slinging high in the air, into the audience all the way into the tower, hitting us in the face a few times.
17 (Peters) gives 13 a big push to the wall but then 17 couldn't get started. The horn blew as 27 was waving and the UCCVFD ran to the car fast to check it out. Already 11 and 17 were smoking bad. 27 was out. The horn blew to start the heat again and immediately 03, 45 and 07 rammed while 17 (Foutz) backed up and started pushing 17 (Peters).
07 gave 17 (Peters) a good push and got him out of the mud. 07 rams 11 and 03 hit too. The rear of 11 now is gone, looks open-ended. He had car trouble and took his helmet off – the horn stopped the heat. Sadly, rules are that you cannot do that during a heat.
Wheels spun as many tires weren't even on by now, some were cocked out and every car was crushed in.
17 (Foutz) was giving them all good hits but got stuck in the mud, however she got out. 13 pushed 03 all the way around the ring then backs up and goes after 03 again. 03 pushes back. 07 hits 03 and 45 at the same time. 45 had what looked like fire in the front, however it was a headlight. Guess he knew it would be getting dark and wanted to be able to see better.
07 and 03 had a continuous battle going on that was good! 45 rams 03 hard.
13 got started again and went after 45, pushing him around. 13 and 45 got hooked up but 17 (Foutz) rams them and they come loose.
7 and 17 battling nose to nose, while 17 and 07 rammed 45 at the same time. (ouch). 17 comes back, hits 07 and then rams 03 into the wall. Mud flying high as 03 then pushes 07 around the track, and then goes after 13. Great heat! Big hits!
07 pushed 03 hard into 17 (Foutz) while 45 is still spinning in the mud in the corner. 17 rammed 03 and did it again. 13 then gets in the fun too. 17 (Foutz) spinning as 07 spinning trying to get out of the mud and the engine then billowed its
smoke bad, but he didn't quit.
13 rammed 07 and then chased each other around, playing tag. 13 is smoking but gave 07 a big hit, while 03 and 17 (Foutz) are stuck, spinning tires. 45 got pushed into the corner. The heat slowed down as five vehicles' motors were still going, but not much hitting. 13 and 03 finally got going and then 07 got free, making a hit. Then all motors were silent for about 5 seconds until 07 got started and pushed 13.
The horn blew and the winners were; first – (Baby) Grant Oliver (07), second – Chad McDowell (13) and third Josie Foutz (17). Mad Dog Award went to Taylor Cadd.
"Had a heck of a night last night, made some great friends and good hits, that's what it's all about!!" Oliver shared on facebook. "Car did everything I could ask and more until the end my radiator hose blew and sent steam everywhere and lost all cooling and got hot but still lasted out enough for the win. Couldn't be more happy! Great job Chad McDowell on 2nd and Josie Foutz on 3rd!! And go check out my great friends and Metal Carnage TV I don't know what the derby's around here would be without y'all!"
McDowell shared on facebook, "Well, finally placed in derby! Like to thank the sponsors that got me here; Christopher Meeks – Meeks Recycling for the car to run, Country Convenience Market on 57 and Brittany Taylor and Josh Taylor with Wide Open Window Tint and Grant Oliver for being a sportsmanship player and knocking me off the wall to later beat me for first place."
Foutz added her heartfelt message on facebook, "I brought the 3rd place win home for you, Uncle Sammy (Huffman). I wish you could have been here to see it. I will forever miss you and think of you! I love you!"
Mad Dog winner Taylor Cadd shared, "Congrats to Oliver and McDowell and Foutz. Definitely put a good show on tonight. Even though I didn't place, at least I didn't come home empty-handed."