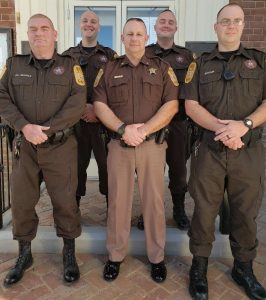 By Alexander Shedd
In the past several months and years, mass shootings have been on the rise in the United States and in southwest Virginia in a major way. In 2020, the CDC reported that more Americans died of gun-related injuries than any other year on record. While these tragedies cultivate important conversations on gun rights, they also bring up major issues in mental health care and infrastructure.
On May 20, Craig County Sheriff Lloyd "Trevord" Craddock spoke on the need for mental health resources in an interview with local Fox affiliate WFXR News. 
"A lot of the calls we go on, we do a lot of talking to people," Craddock told WFXR. "There are calls where we're dealing with people that are just having a bad day and they need somebody to talk to."
Craddock said that his deputies are often required to respond to a number of different mental health situations that, while they are trained in dealing with mental health crises, they are not necessarily professionally equipped to resolve properly.
"When we have to take somebody in on a paperless ECO [Emergency Custody Order], that deputy is going to be gone from whenever time that happens, for eight hours or more, depending on when they can find a bed and when we can get them transported to that location," explained Craddock.
Craddock added that, since the Craig Co. sheriff's office is a small operation, he and his deputies are the only service currently available to call in a mental health crisis. "There's no services here that we can call to come out to the scene and help assist with this mental health crisis," Craddock said. "We deal with it."
He went on to note his wish for "mental health services that are here that we could call, that could maybe come to the scene and put their input in as to what type of help the person needs, and we just don't have that."
Craig County is serviced by the Craig County Health Center, a subsidiary of the Monroe Health Center, whose website is monroehealthcenters.com. Sheriff Craddock noted that he believes the center still has a counselor on staff who is available by appointment.
"We all know that there's a lot of mental health issues, and we need help and the people need help and they need access to this type of counseling and other services," said Craddock. "It would be a great help. I think our community and a lot of communities, as a whole in the rural areas, we just don't have those services and they are needed."