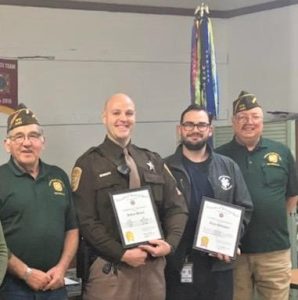 By Pam Dudding Contributing writer 
If anyone understands the significance of responding to emergency calls, it is the Veterans of Foreign Wars. 
On Tuesday, December 14, the local Craig Valley VFW Post 4491 honored Craig County's first responders, presenting them with appreciation awards. 
Craig County is blessed to have the best of the best serve our community in the fire departments, emergency medical services and on the police force. 
The VFW received submissions from citizens of first responders in each division, and chose one from each category. It is never an easy choice as all our First Responders deserve recognition. 
Deputy Jeffrey M. Bryant was chosen as Policeman of the Year for the Craig County Sheriff's Office. 
"I am submitting Deputy Bryant for the VFW Public Award Citation as Policeman of the Year for the Craig County Sheriff's Office. Deputy Bryant joined the department on December 1, 2017. He started the Cardinal Criminal Justice Academy in Salem in January of 2018 and graduated in May of 2018. Deputy Bryant has continued to excel at the Sheriff's Office and has become certified in courtroom security and civil process. He has a strong work ethic and is very proactive in keeping our community safe. Deputy Bryant is also a member of the New Castle Volunteer Fire Department and can be seen responding for fire calls in his off time, as well as assisting on fire department calls while on duty with the Sheriff's Office. Deputy Bryant is an asset to the Craig County Sheriff's Office and our community."
Replying with much gratitude, Bryant said, "I am very thankful for receiving this award. It is truly an honor to live in and serve a community that is so thankful for the Sheriff's Office and their hard work." 
For EMT of the Year, Trace Bellassai was chosen. 
The submission shared, "It is my pleasure to nominate Trace Bellassai for EMT of the Year in Craig County. As Chief of Craig County Emergency Services, I have seen Trace excel in EMS over the last year. He has great determination to make a difference in the field of EMS for the benefit of the citizens of Craig County. Trace has dedicated numerous hours to becoming a certified EMT and being cleared to run calls to assist those in need. He is currently working on his Advanced EMT to be able to provide even more care. Trace does this as a volunteer in addition to his full-time responsibilities. Trace is one of the first ones to assist if the situation arises, whether it is answering a second call due to the on-duty crew being out or coming to lend a hand on a critical call. Trace is not only a good EMT, he goes above and beyond the call of duty. He gives his all to each patient, on each call, it has been my pleasure to work alongside him and watch him grow in the provider he is. I look forward to his growth and being able to continue to serve alongside him." 
Bellassai added, "I was extremely honored to receive the award. I became an EMT after becoming a 911 Dispatcher and realizing how often we needed to call Roanoke because we didn't have enough volunteers, I figured I should help be part of the solution so I joined the Rescue Squad and started EMT class a few months later. We have such an amazing group of EMS providers here in the county, so I certainly never expected to be picked for this award. I'm just glad I am able to make some difference for our community." 
Brad Lipes was earned the Firefighter of the Year Award. Due to an illness, however, he was unable to make the awards ceremony. 
The person submitting his nomination expressed, "I nominate Brad Lipes for the VFW 2021 Fire Fighter of the Year Award. It's hard for me to pick out just one firefighter for this award because they all deserve it. They each spend countless hours of their own time volunteering each year to provide fire protection to the citizens of Craig County. This year, I had one call that stood out above the rest. Earlier this year, we were dispatched to a call that involved several structures, several vehicles and spread to a brush fire. When we arrived on the scene, there was a building that was on fire. Brad and another firefighter put on their air packs and went to work on the burning building. Brad led their attack on the building. They entered and were able to knock down the fire and put it out. This act of courage was instrumental in saving the building which had around $20,000 worth of equipment and tools stored in it. As I thought about everything that went on throughout this past year and this was the one call that stood out above the rest. This act of bravery and courage deserves the award of Firefighter of the Year. Brad is a fourth-generation firefighter for Simmonsville Volunteer Fire Department. He has been a member for ten years but has been involved in the department for many years before. At age 12, we had a call for a house fire during the day in which most members work. I was the only member that responded to the fire that day. I took Brad with me just in case I needed help and that worked out as Brad was able to operate the pump on the fire truck as I put the fire out. This also resulted in saving a house. He is second Lieutenant for Simmonsville Volunteer Fire Department and helps conduct in house training for the members of the department. His dedication and leadership over the years has made him a major asset to the department."
Lipes later replied, "I was honored to be chosen to represent the local Volunteer Fire Departments in Craig County. I was surprised that I was chosen. I appreciate the VFW for honoring the First Responders in our county for their hard work. And I would also like to thank the VFW for their service." 
Each person was awarded an embossed certificate from the VFW, presented by Billy Lee, VFW Post 4491 Post Commander, and a gift card. 
"It is good to live in a county where First Responders and police have your back," members of the VFW Post shared. "You can count on them to be there when you call."