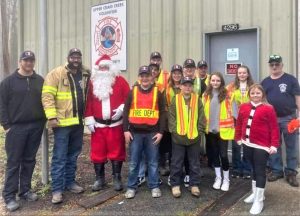 By Pam Dudding Contributing writer
Kids love to see the jolly St. Nick at Christmas, however, few ever thought they'd see Santa riding on the back of a fire truck, coming through their neighborhood.
The Upper Craig Creek Volunteer Fire Department (UCCVFD) heard that Santa needed a little help in coming to visit the good girls and boys on a back road route he was taking to the North Pole. 
Chief Shawn Matheney and his crew agreed to help so that Santa's reindeer were able to rest up for the big night of traveling around the world. 
The sleigh bells were ringing, the announcement preceded his arrival and kids were running to meet Santa on Saturday, December 18. 
So, instead of a red sleigh, Santa loaded onto their red firetruck and hung on while being driven to visit many kids in Craig. 
Smiles, giggles, and squeals permeated the air and parents' hearts were full with joy at the glee their children experienced while telling Santa their deepest wishes. 
"I think even some of the little ones that are afraid of Santa wasn't as afraid of him seeing him on the firetruck," Matheney said. "We also had some of our Junior Squad to help us. They seemed to really enjoy it too." 
Santa on the firetruck was Matheney's idea. 
"I grew up looking forward to Dunlap Fire and Rescue doing it every year then when I was 14 and joined the Jr. Squad, I got to be a part of it and have done it every year until we moved to Craig," he said. "I have wanted to do it with the volunteer rescue squad when I was Chief, but it just didn't work out."
The Tuesday night before, they had bought lots of candy and bagged 265 individual bags of candy and gave out more than half. 
"All of it was exciting but watching the kids jump up and down when they saw Santa and knowing they was the next stop was great," the squad shared. "We heard the kids yell out, "look mom and dad, Santa's on the fire truck!"
"We covered all of our first due coverage area, county line to Walton Mountain Road on 311 and all of 621 hitting all the side roads along the way," Matheney said. 
They started at 9 a.m. that morning and didn't finish until 4 p.m. 
"The members loved the idea from the time it was brought up back in the spring until the day of," Matheney shared. "Everyone was excited and looking forward to it. And then after doing the Santa run, liked it even more and everyone can't wait until next year to do it again!" 
The squad also noted, "We are having a spaghetti dinner on February 12 from noon until 4 p.m., dine in, carry out or drive through."
"We felt having Santa visit the kids was a way to give back to our community after they showed us so much support this past year," Matheney said. 
They hope to see you at their Valentine's Spaghetti Dinner for a great meal, fellowship and also, to help continue to support their efforts for the Upper Craig Creek Volunteer Fire Department, to serve the community.