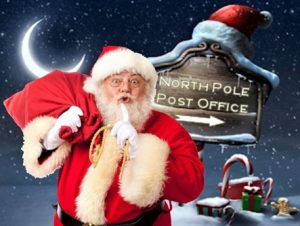 Pam Dudding Contributing writer
As Christmas draws closer, kids are starting to get even more excited and have already began writing letters to Santa Claus. 
For the third year, Santa will be placing his personal mailbox at Family Dollar for kids in Craig to make sure he gets them. 
Local children have already been asking store manager Caitlin Reynolds when the mailbox will arrive. So, she had to call Santa to remind him!
Kids can write their letter to Santa with all their requests. They can also add their special notes to him, to Mrs. Santa, all the elves, the reindeer and Rudolph too if they like!
All letters must reach the mailbox by Friday, December 17, at 7 p.m. 
However, it doesn't end there! 
Santa will then be writing a letter back to each child and will have them delivered to Family Dollar by Monday, December 21.  
He can't write back any later, as he needs enough time to get everything together for the great night of Christmas Eve.
Family Dollar holiday hours are from 8 a.m. until 10 p.m. 
There is no age limit as there are many kids young at heart, whether they are 18 or 98!
Blank letters to write on will be at the mailbox or kids can draw up their own and drop it in. 
Santa can't wait to hear from all his good little girls and boys. So, drop your letter into his mailbox today!