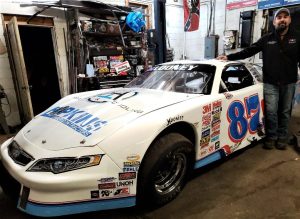 By Pam Dudding, Contributing Writer
With racing in his veins, it seems that Mike Looney has always been called to the racetrack. 
Since 1965, the Looney family has delved into the racing sport with feet, hands and heart. 
"The racing bug bit me young, while watching my older brothers' friends, Lee Sarver and Scott Zisk race." Looney reminisced. "Then my good friend Joe Taylor got a race car and me and him begged and borrowed trucks and tires and gas for Joe to race at Franklin County Speedway. It wasn't long after that, that I started working three jobs while in high school to make enough to buy a race car from Scott Zisk."
That relationship began his first race car. "And that was the beginning of the addition!" Mike said. It was a 1974 Ford Torino. He headed to the Franklin County Speedway where "he won the Pure Stock Championship!"  
Said David while reminiscing, "We took his car to Franklin County Speedway, and he took to the track like a duck to water. Just because you don't have the best of stuff doesn't mean you can't dig in and figure out how to make what you do have work."
That was then and this is now as Looney won the titles of the Motor Mile Speedway Nascar Whelen All-American Series 2019 Late Model Champion, Track Champion and State Champion in Virginia and also took second-place in the Nascar Whelen All-American Series in North America. Yes, that's correct, second in the nation!
Now he shares that after many years of hard work, they have built a top-tier late model team which is owned by Billy Martin out of Patrick Springs, Virginia, and it is housed in the little shop behind his dad's home.
Looney is also a two-time South Boston Speedway winner. 
His father, Ronnie, started racing in 1965, when there was a dirt track at the Pulaski County Speedway, trying out his huge station wagon, that they nicknamed, "The Camper." His wins surprised even the judges as he ended up bringing home many trophies. 
A good friend, James Dudding, shared, "He took that motor out of 'The Camper' drag car and dropped it into a '55 Chevy and we all built his first track car and he started driving in the pure stock division."
Ronnie added, "It was the original red and white 02 car. Your dad and his brothers helped me build it," he said to Pam Dudding, who remembered the races as a small child. "Those were the days." 
Ronnie bought Mike a go-cart when he was young, and Mike grinned as he started talking about his go-cart racing as a youngster. "I'd ride it in the hayfield," he said. 
His brothers also built go-carts. 
David said, "It didn't matter which one Mike got on, he would always win, fair and square, he just has a gift when it comes to driving." 
Mike agreed with a smile," I'd always wear them out!"
Though Mike started racing young, the ironic part was he wasn't old enough to drive on the road yet, but David said, "He sure could drive on the track."
Today, Looney has outgrown the go cart and the Torino.
"I can't thank Billy Martin enough for the huge financial investment in three Forrest Reynolds chassis race cars" Looney said. 
He noted that Forrest is also from New Castle and was raised on Wagner Street. He currently resides in Concord, North Carolina, and is a premier chassis builder and fabricator.
"We only run cars built by Forrest," Looney exclaimed. 
He added that they are "blessed with great sponsors," including Hopkins' Lumber, A1 Heating and Cooling (Newport, Va) and Harrisons Workwear out of the Carolinas.
Noting that harrisonsworkwear.com is the top vendor for Carhardt, Ariat, and 511 clothing. 
Looney shared a deal with his fans. "Everyone can go on the website and if use coupon code 'cars10,' you'll get ten percent off everything."
"With help from Matt Peters as car chief and Jimmy Williams as lead mechanic, both Craig County boys, and a host of seasoned road crew men were able to compete and often beat mega buck teams like Dale Earnhardt's Jr Motorsports, Nelson Motorsports, etc. who are all full-time paid racers," Looney said. 
Looney said he was caught in a private moment once, as he knelt beside his car in prayer. 
"The picture was actually a personal moment that happened to get photographed. I was kind of just acknowledging that a lifetime of hard work and sacrifice isn't enough unless it's God's will. It was just a day so perfect it gives you goosebumps, and you know you've had help from above." 
Friend Vince Caldwell shared, "The only racer I keep up with is Mike. He is a great person on and off the track. A number one-wheel man. Just to put it in perspective what kind of guy Mike is, when my cousin passed away, I was in the last car in the procession. I looked down toward Mike's garage to see if they were working on his race car that day only to see Mike standing there with greasy hands, facing the road with his hat in his hand, paying respects to the family. You can't find people like that much anymore. He's a great guy and a great friend." 
"He is such a humble guy and one heck of a driver and a good family friend," Shorty Sowers said. "He knows how to race, and we cheer him on every chance we get. He's one of a kind and very respectful too. Tommy enjoys bear hunting with him on the off race days and in regular bear season. He's a down to earth kind of guy and he always has plenty of laughs for everyone. A true friend to many." 
Looney is coming off a strong second-place finish at Martinsville, adding excitedly, "We're looking forward to the Cars Tour Race." 
It is the premier touring series for late model race car drivers. 
He appreciates his crew, saying, "My crew approaches every race 100 percent. We don't leave anything on the table any week. I don't know how we can give any more than we have been giving every week to be the best we can." 
Mike shared that his family is very important to him, "By the time I came along, Dad was done racing. Most racers today have to be rich or have a rich daddy to do it, neither of which is us. My dad went back to work after he retired to help me pay the racing bills. That's something none of them rich folks would do. I really appreciate the sacrifice my whole family has made so I could chase dreams."
Ronnie proudly exhibits many of Mike's trophies, saying, "I think I'm going to have to get a bigger table."