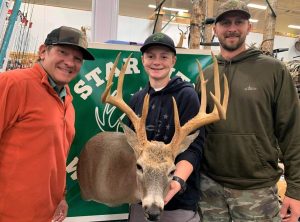 By Pam Dudding, Contributing Writer
Virginia is known for its countless deer, especially the beautiful and big trophy bucks. 
On Saturday, September 25, Star City Whitetails, Buckmasters & Sportsmans Warehouse hosted a "Buck Scoring Event" at Sportsmans Warehouse in Roanoke. 
Doors opened at 9 a.m., and from then on, bucks were brought in to have their sheds scored in hopes of winning a prize. For some, they showed up just for the fun of it and to see everyone's bucks. 
Jeff Phillips, a hunter from youth, decided ten years ago, to start a small contest for hunters to submit their big buck pictures to be judged. From there he decided to also host a scoring contest this year. 
"I'm sure y'all have some that have never had tape put to them," Phillips said with much excitement. 
The fee of $10 per head went towards a drawing from Buckmasters and being entered into their record book if the following scoring requirements were met: 140 without spread (Firearms), 105 without spread (Archery) and 75 (shed antler). 
A $100 gift certificate was given to the overall top-scoring buck.
"The Buckmasters scoring system truly focuses on giving credit to the buck for every inch it grows," Phillips said. 
The official scorers – Anders Blixt from Eastern Virginia and Wayne Cox from North Carolina – enjoyed the day's event as much as the hunters entering. 
"It was a fantastic turnout," Phillips noted. "Some of the greatest bucks Virginia has every seen and a lot of the public showed up to see those bucks." 
The top place winners from Star City Whitetails/Buckmaster scoring event were: 
Tom Harvey – men's and was the overall champion with a score of 230 3/8 from Campbell County

Gabby Smelser – women's top honors with a score of 171 6/8 from Bedford County

Dalton Coffey – youth division with a score of 137 2/8 from Amherst County

Austin Dowdy – archery division with a score of 176 4/8 from Blacksburg
"We had over 100 hunters and plenty of hunting patrons showed up as well," Phillips said. "Many of the bucks qualified for the Buckmasters trophy record book." 
Matt Volk and Sportsmans Warehouse donated gift certificates to the men's, women's youth and archery as well as an overall champion to the highest-scoring buck.
"Congratulations to each of you as well as all the others that showed up," Phillips shared. "We had a great time hanging out, talking hunting, making new friends and seeing the greatest bucks that Virginia has to offer."
He added, "Maybe this is something that we will continue to do annually because of the great turnout. If we do so next year, we hope to see even more great bucks for the scoring."