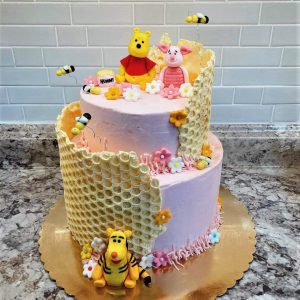 By Pam Dudding, Contributing Writer
There is nothing more pleasant than the smell of a fresh homemade cake, cookies or pies when they are baking. 
Dawn Perkey has a hobby that she has come to thoroughly enjoy and now, so have many others. 
Recently on Facebook, she shared, "Hi, my fellow New Castlers! (Totally made that word up ☺️) Just wanted to say I'm so elated with all the support and orders for goodies every time I share a 'pop-up' post. I have plans in the works for my baking hobby, but until then, I wanted to share that I am available for custom orders. As always, every cake, cupcake, cookie, cake ball/pop etc. is made by me from scratch." 
Her Facebook fans and clients responded with compliments. 
Karen Crush, "So talented. The cake I purchased was absolutely delicious. Looking forward to future cake or cake pops, cupcakes, etc." 

Mary Spence shared, "I wanted to let you know, everything was delicious! My husband brought home bubble cake the same day to surprise me, and vice versa."

Amanda Sarver added, "She made cake balls for my daughters' baby shower, and they were a big hit!" 
"I've always enjoyed baking and have the biggest, sweet tooth a person can have," Perkey said. "I fondly recall as a little girl helping my mom make homemade cinnamon rolls, cookies, pound cakes, breads and other baked goods all from scratch. They were the best."
She noted that her mom is very crafty and grew up in a family of ten children, making her a very resourceful and talented lady. 
"Everything I've learned about baking, I learned from my mom," added Perkey who said that fall is her favorite time of the year. 
"I love most anything pumpkin!" she said. "One October weekday last year, my husband David and I were sitting on the couch watching TV and talking about wanting something sweet. He has a converted sweet tooth since meeting me, now possibly worse than mine! So, I started looking through my 'Sweet Tooth' recipes and came across a Pumpkin Carrot Cake recipe I had saved years prior, but never made. I generally have most baking ingredients in my pantry, but I didn't have everything I needed for this recipe so the next day I got what I needed and made the cake the following weekend."
She said it was the most moist and flavorful cake she'd ever tasted. 
Her husband added that it was "the best carrot cake" he's ever had. 
"I remember calling my mom and telling her to get the cake out of our house because we had eaten half of it in one day. She came and rescued the cake. We talked about that cake for weeks," she said. "Fast forward to a few weeks before Thanksgiving. I knew this cake was too good not to share, so I went back and forth with the idea of posting a picture of the cake on my Facebook page offering it for the holidays ahead."
With her husband's encouragement, she decided to go for it, though not expecting much response. 
She was surprised when, from Thanksgiving and Christmas, she made 50 pumpkin carrot cakes for family, friends and people in New Castle. 
"I received many great and wonderful reviews, all similar to my husbands with repeat orders. After receiving so much positive feedback, I decided to start posting 'Pop-ups' offering my sweet treats mostly around holidays," she said. 
Perkey agrees that she does have a creative mind to an extent, however, is more of a visual learner, getting ideas for decorating from a variety of sources, including videos on decorating techniques and following several cake and baking pages on Facebook and Instagram. 
People also send special requests along with a picture. 
"I add my own touch to it," she admits. "I'm self-taught with a lot of trial and error when it comes to decorating. There have been times I've taken all the frosting off a cake because I didn't like the way it turned out, but the forgiveness of frosting is nice and allows me to experiment with different designs and techniques which most times happen in the moment."
She noted that fondant is a good medium and she's always liked to create with her hands and having worked with sculpting polymer clay, fondant isn't much different, providing another element to a cake, with its uniqueness. 
The most fun cake she has made was her "Forest Gnome" cake. 
"I'm a big nature junkie, so I was able to bring outside elements to this cake of lemon/raspberry with a raspberry filling and designed to look like a tree stump made from chocolate," she excitedly shared. "It was covered it chocolate 'dirt' and graham cracker 'moss,' then topped with gnomes, pine trees and mushrooms."
Perkey grew up in Botetourt. 
"My husband and I moved here August of last year after selling our home in Roanoke and living in a fifth wheel camper for a year with plans to build a home on land we own in Botetourt," she shared. "Fate had different plans and we found our dream home, an a frame in New Castle. Our dream is to retire in New England as my husband is a surrealist artist and I am a nurse."
They are nature lovers and spend their free time hiking, backpacking, gardening, mushroom hunting and traveling with their little dog, Adora.
Perkey admits that it has always "been a dream to own her own bakery, but a brick and mortar is very intimidating to me because I'm not that savvy when it comes to the behind-the-scenes part of running your own business."
She quickly added, "But, put me in the kitchen with the tools and ingredients I need, and I can make most anything." 
Her menu currently includes, cakes, cupcakes, cake balls, cake pops, banana bread, cookies and brownies for special occasions. However, her favorite is her Lemon/Raspberry cake, thus her newly created bakery name is, Lemon & Vale Cakery. 
Most items are custom priced, but she is currently working on a price list for her Facebook page.
"Please feel free to message me anytime and hopefully I can help you out," she said.