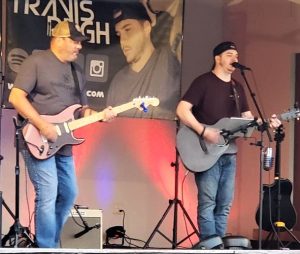 By Pam Dudding, Contributing Writer
Music is an avenue that ministers to the heart and soul. When it is shared with others, it seems the healing multiplies.
"By September, nearly every farmer and backyard gardener has harvested their crop – and all deserve a good break," Rob Senter said. 
It was with that idea and a post on Facebook that the Annual Harvest Concert Series was birthed. 
The Senter Farms, LLC and Zimmerman Equipment held their First Annual Harvest Concert Series on Saturday, September 26, at the Craig County Fairgrounds. 
People started arriving early to pick out their favorite spot. Some chose right up front while others had a little family picnic in the grass a little further back. 
People then walked down to the edge of the fairgrounds to buy food at the travel trailers.
"We had about 120 people show up and enjoy the concert," Rob Senter said. "I stayed in the ticket booth for the evening and the Zimmerman kiddos happily stamped hands and were helpful all around." 
Taylore Price was happy to have her picture taken with family, and many friends, both old and new. 
David Givens with his Dave's Sounds had the system set up and on 'go.' 
Price opened the show after 6 p.m. and she was immediately greeted with shouts and handclaps. She played favorites as well as a couple of her own songs she wrote herself, Hippie Soul and Indian Giver.
Following was the headliner, The Travis Reigh Band, a Roanoke-area country music band. 
When Reigh started playing, his voice permeated the atmosphere with his low country tone, which people complimented. Everyone seemed to enjoy every song he played. 
Senter added that from the ticket gate, he could hear the concert music and enjoy the fall air. 
"A bit of small-town nostalgia came over me as I watched some teens throwing a football back and forth," he shared. "It was a perfect evening in small-town America."
Price later shared, "This concert is something I never thought I'd do. I've played at the Fall Festival before and I was asked to do it again, so that I kind of saw it coming, but doing a concert like this with another headliner is just something I never saw coming. This is my first time and I'm very excited and nervous. I'll be playing two of my own tonight. They were actually played on WUVT radio this morning." 
After Reigh finished his set, he thanked Craig County for having him. 
Senter and Zimmerman are going to bring the concert back next year. 
"We will have more bands, a better mix of genres to appeal to everyone, and a fun time for our community. Our home," Senter ended.