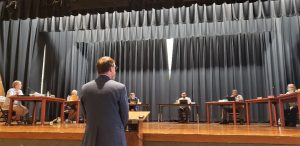 Pam Dudding
Contributing writer
With all Board members present, the July School Board meeting covered many topics pertaining to the upcoming school year. 
Superintendent Jeanette Warwick reported that annually, Craig County schools get a special education performance report. 
"This year our report was based on data from the 2018-2019 school year. There are 14 indicators, and we did not meet the state target for two," she said.
Students with disabilities grades 7-12 who dropped out. Craig County was 1.69 and state target wants you to be under 1.40. Obviously if one child does not graduate, that is not ok with us, therefore we will be addressing that this upcoming year

School age least restrictive environment for students served in separate public or private schools – children that need to go to a school due to a special nature of their disability. We have five percent. We only have three children and we do not send kids out of town unless we absolutely cannot meet their needs here 
Warwick continued, "The Coalition of Small Rural Schools are sponsoring a 'Crumbling Schools Tour.'" 
The notice stated that "This tour will allow decision makers to have a first-hand account of the conditions our students and staff endure on a daily basis. Unfortunately, rural, and high poverty areas have more than their fair share of school infrastructure needs. The goal of these tours is not to call out or cast blame, but to bring awareness to the difference in what is, compared to what could be. This issue cannot be solved by localities alone. This issue cannot be solved by the Commonwealth alone. The only real solution to this ever-growing problem is to combine federal, state and local resources to ensure that a student's zip code is not a predictor of the quality of the education they receive." 
"In Region 6, we were asked to host this tour," Warwick continued. "There will be different legislators coming and the Board of Supervisors and the School Board were invited to come. This is to give them an idea of the things we are still in need of." 
Craig County Public Schools (CCPS) were visited on July 22 at 10:30 a.m. 
Trace Bellassai is the Board representative for Governor School and reported that they are still reviewing some of the guidance concerns for admissions and discussing a waiver. However, he reported that the good news is, CCPS is sending an additional student this year. 
Warwick shared, "I have been so hoping to be able to give a definite answer about masks when school starts. However, the current Governor's order requires us to wear masks while children are here and on school property and on school buses." 
This mandate expired July 28, therefore new mandates will be given, as school starts soon. 
Warwick did add that temperatures checks are no longer required at the door, however, they still monitor symptoms, "just as we do during flu season." 
Grading scales in schools are a consistent issue and Warwick shared that she has been approached several times over the last few years about the one at CCPS, requesting the ten-point grading scale. 
Samuel Foster had conducted a survey with the teachers for their personal input, as Warwick wanted to hear the comments of every teacher, grades K-12. 
Foster reported that the survey was conducted June 2021, asking teachers and staff about which grading system they preferred. They were asked to choose a grading scale, grades 3-5, 6-8 and 9-12. There were three possibilities given: 
seven-point scale (CCPS current scale) 100-94 = A

ten-point scale 100-90 = A

ten-point plus or minus scale (for grades 9-12) which is what most colleges use today 
Forty-one responded. It was approximately 50 percent were high school, 20 percent middle school and 30 percent elementary school, which is the breakdown of their staff, therefore we have a good response across the division. 
Foster then explained that one concern on the ten-point scale that has risen is, that students who have an 80 average receives the same grade as a student who has an 89-average grade. 
"The plus and minus scale does break this down a little bit more and are similar to college grade scales," he said. 
His reporting found the following: 
Grades 3-5: 77 percent of all respondents would like a ten-point scale (most all elementary teachers and middle school teachers chose ten-point whereas the high school suggested to remain on the seven-point scale.)

Grades 6-8: 91 percent of respondents ten-point scale

Grades 9-12: 97 percent ten-point scale 68 percent prefer the plus or minus scale
Based on the results, Foster recommends the following for the 2021-2022 school year: grades 3-8 straight ten-point scale and grades 9-12 to do a ten-point plus or minus scale. The advantage here is it prepares them for college. 
As you know, our mission statement is "Every Child a Graduate; Every Child Prepared for Life." So, we are preparing them. 
Bellassai inquired of the survey information Foster had sent to the Board since the survey did not show a change in grades for students. He shared which gave a profile of another local school that moved from seven to ten-point scale. There seemed to be no difference, and sadly, the number of F students remained the same. 
At the time, only CCPS and Salem were on the seven-point scale, all others schools have changed to the ten or ten-plus/minus scales.
Warwick added that she had been asked several times and Gina Smith noted, "Surrounding counties are also on a ten-point scale and also college is at that scale. 
Explained Warwick, "I prefer the ten-plus or minus scale as the students who receive a higher grade need to be rewarded for that. If a student gets a 90.2, they receive the same A for the student who carries a 100 average. For the students who want to work and excel, I think it is a reward for them." 
Bellassai added, "There are areas I think our standards could be better and the seven-point scale helps offset the fact, that it sets our standards a little big higher." 
Warwick replied, "Since 2016, we have worked diligently to expand many programs, including AP and dual-enrollment. We now have two math teachers who can teach dual-enrollment and have added additional AP classes, including AP Computer-Science class that Mr. Boyer started. He was one of the first teachers to start it in the nation. He has a great program for those students. We have AP English. We need to empower our teachers to move beyond multiple choice and go to more higher-level processes and then we will see what you are looking for." 
Smith added that for VHSL, grades impact some of the cutoffs for sports participation.
Foster said that students must pass three out of four grades which would put our players on more of a level playing field with surrounding counties. "I think this grading scale gives our students a little more hope and they need that little bit more hope right now," he said. 
The Board approved the recommendations. The Board also approved for CCPS to continue to not schedule practice and games on Sundays. 
Warwick shared that families and staff had previously stressed that Sunday was to be a family day and students should not be forced to choose between religious services in order to participate in sports. 
Smith inquired of what "emergency situations" would warrant a Sunday game and Foster explained that it is typically playoff games that could be weather-related in District and Regional tournaments with specific deadlines. "I feel like we have been doing good all these years, why do we need to change it?" he said. 
High school principal Melissa Whiting said, "Parry McCluer was just in a situation in soccer with rain and they had to cancel a game and make up a game prior to deadline for the tournaments and had to contemplate a Sunday game."
Ultimately, the Board unanimously approved to not have Sunday games. 
Warwick reported that there was an excess of fund for the 2020 – 2021 school year of $454,000. Due to the amount of COVID-19 Response Funds CCPS received, many of the items normally paid for out of the operating budget, were purchased with these funds. There was also an excess in transportation because they went from transporting students five days a week to four days a week. 
"We have to turn this over to CC Board of Supervisors and it is placed in a capitol fund which have to be applied to specific areas," Warwick said. 
Chairman Susan Crenshaw added that these funds had been earmarked for possible specific purchases, which Warwick said that the needed resurfacing of the parking lots was one of the areas the funds would be used. 
Upon the meeting ending, Crenshaw addressed the many citizens that attended, "For everyone who came out tonight with concerned business, talk to your school personnel with any of your concerns." 
Bellaisai inquired about using some of the funds for the athletic areas that needed some serious attention. 
Whiting said, "We have a 'parent posse' who has volunteered just what you have indicated and working with our newly appointed football coach. Great minds think alike." 
Warwick added they would be sending the back-to-school schedules and she praised the summer staff. "Our kids have been loving coming to school. They are just happy, they are bouncing in. It is really nice seeing the children loving being here. A big shout-out to the staff, Mrs. VanDyke and Mrs. Whiting as well and Mrs. Stimeling." 
Warwick assured the community that their concern for the students at CCPS was of top priority. 
She stated, "There has been a lot of news media about the transgender policy that the Department of Education was mandated by the General Assembly to put out this policy. However, we already have policies in place that protect all children from any discrimination. So CCPS will not be adopting anything separate from the policies we have that will protect our children against discrimination. I wanted to make that statement publicly because it is a lot to see in the media. It is a local school decision and the School Board in Craig do not see a need to adopt the model policy as we already have those policies." 
Later, she added, "I would like to explain Craig County Public Schools' stance on these topics." 
Virginia Code Section 22.1-23.3
The intent of the law is to prevent discrimination of transgender students. The school division already has approved policies in place to ensure non-discrimination of all students. Those policies meet the requirements of the Code. Therefore, it is not necessary to change existing policies or adopt the VDOE's Model Policy for the Treatment of Transgender Students. The division will continue to work with individual students, as we always have, to keep all students emotionally and physically safe at school. 
Critical Race Theory
This term is not mentioned in the current Virginia Standards of Learning, nor in the curriculum. This includes the current standards and those standards that will be taught beginning in the 2022-2023 school year. We will continue, as always, to teach the standards prescribed by the Virginia Department of Education. 
Warwick thanked everyone for attending the meeting, encouraging them to return for the August 10 meeting at 5:30 p.m.