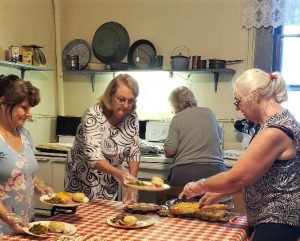 By Pam Dudding
Contributing Writer
If there is one thing people like to do, it is to eat. Even with the flavorful meal recently served at the Old Hotel, laughter, smiles and a jovial atmosphere took center stage. 
The Craig County Historical Society, once again, hosted their infamous dinners at the Old Hotel on Main Street, having packed reservations for both serving meals. 
Their meal included a nice portion of ham, green beans, baked macaroni and cheese, a roll and drinks. 
It was followed by a selection of homemade desserts including, strawberry cake with fresh strawberries, cherry cheesecake, chocolate cake, peanut butter cake, coconut cake and peach cobbler. 
The kitchen staff were more than ready to have everyone's meal served hot and ready as closely to being seated as possible. CFA had nothing on them in serve time!
The hosts and hostesses greeted, seated and served everyone with warmth. 
Lively chatter continued throughout the meals and people left with smiles and what appeared to be satisfied appetites. 
The hard-working Historical Society workers were Society president Gerlene Sizer, organizer and kitchen manager, Jennifer Lovejoy, as well as Carol King, Jane Henderson, Glenn Paxton, Clara Leftwich, JoAnn All, Robyn Foster and Thomas Hicks. 
Diane Givens, Ann Smith and Jane Johnston were the smiling hostesses and Hutchison greeted everyone entering, confirming their reservations. 
Seventy-five meals were served, and several more were ordered as takeout. 
At the upcoming Fall Festival on October 9, a country breakfast will be served in the Old Hotel starting at 7:30 a.m. The lunch menu will consist of delicious beans and cornbread with homemade desserts.
Hopes are to be able to have another dinner before that, on Friday, August 27, serving two dinners, 5 and 6:30 p.m. Details will be on the Historical Society Facebook page and flyers will be out soon.
"Many compliments on the food were received and the fellowship was enjoyed by all," Givens said. "The society appreciates the support of our wonderful community."