Pam Dudding Contributing writer
On Wednesday, July 7, Bugs and Noline Jones celebrated their 70th wedding anniversary at their home church of Grace Assembly in Catawba. 
Approximately 100 people came to give their love and blessings to Frederick Raynell Jones (Bugs) and Noline Evelyn Caldwell Jones, who were married on July 7, 1951, at 6 p.m. that evening by their preacher Aubrey Russell, who was also an algebra teacher. 
Both revealed that the same night they married, the store burnt down where old telephone office used to be in Craig. "Their matrimony almost burnt the town down the night we got married," they said with a giggle. 
Bugs and Noline met in the sixth-grade class that Ms. Caldwell taught.
As the story goes, Bugs sat beside the pencil sharper and would wink at Noline. She would stick her tongue out at him, but seemed to break the lead of her pencil a lot and had to go over beside Bugs to get it sharpened. 
Since then, two have gone on to have four children, nine grandkids, 17 great grandkids, three great-great grandkids, numerous step grandkids, and great-great-great grandkids. 
Not only did they build a house together from the ground up, but they "built a home." 
They shared that the reason they stayed together so long was, "We put God first. Also, don't go to bed mad unless you're going to make up while you're there. We stayed together because we love each other." 
While Noline served as a homemaker, Bugs retired in 1988 from the cement plant in Botetourt.
Last year, the family posted beautiful words on Facebook to celebrate their anniversary.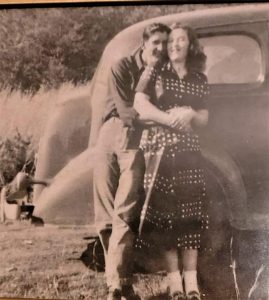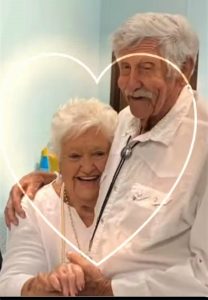 Read one post, "What can you do in 69 years. You build your own home with your own four hands together. You have your ups and your downs, hard times and good times. There are fights to be had and pleasures to making up, there are tears to be shed and smiles to be treasured, there are losses to grieve and gains to be rejoiced. Marriage, so very few are blessed with 69 years together as man and wife. At 19 and 15-years-old, two kids joined together as one. So many years ago, starting a world of their own. Many may say, how can this be, what made them different? The answer, as they would say, don't go to bed angry, unless you plan on making up while you are there, don't start something unless you are going to finish it, give thanks for all things good and bad, realize God has a plan and give Him Praise. And one important thing to a good long marriage, put the Lord first and remember how you felt on your wedding day and always love each other that way." 
At the party, person after person came over to wish them a Happy Anniversary as well as give and receive a big hug. Those who know the "Jones" know that hugs are always in abundance. 
The church had prepared a smorgasbord of foods for everyone to enjoy, but before that, Pastor Loraine Taylor shared, "This is such joyous occasion to celebrate with you and your friends and family and we are so happy to celebrate with you."
A slide show of meaningful pictures from their youth days, their children growing up to present played throughout the evening. Many would point and smile in remembrance. 
A song was played and before it started, Bugs and Noline were asked to say something about it. With a smile, Noline expressed, "The song says it all." Bugs grinned in agreement. One day, when Bugs came home from work, in the 70s, he came in singing this song to her. 
Bugs and Noline stood up to dance to Conway Twitty's song, "Darlin I'd love to lay you down." 
Lyrics to the song read, "There's a lot of ways of sayin' what I want to say to you, There are songs and poems and promises and dreams that might come true. I'll let you know how much it means just having you around. There are so many ways your sweet love made this house into a home. You've got a way of doing little things that turn me on. Like standing in the kitchen in your faded cotton gown, with your hair all up in curlers, I'd still love to lay you down. When a whole lot of Decembers are showing in your face, Your auburn hair has faded and silver takes its place, (as Bugs looked over and touched Nolin's hair smiling), You'll be just as lovely and I'll still be around. And if I can, I know that I'd still love to lay you down. Lay your down and softly whisper pretty love words in your ear. Lay you down and tell you all the things my woman loves to hear. I'll let you know how much it means just having you around. Oh darlin', how I'd love to lay you down."
Everyone cheered for them as they gave another kiss to one another, while holding each other ever too tightly. 
Noline smiled as she declared, "You know we don't look 70! And I think elderly sounds better than old. We've had a lot of good years and God has really blessed us! It's not like we've never fussed before, because then you don't know the joy of making up." 
"We'd be mad at each other, but we would still say 'I love you,'" Noline added with a little extra umph in her voice. Bugs looked at her and winked.
Gifts and cards were brought in for them to take home and open. "This is just a token of love that is being given back to you," Pastor Loraine said. 
Brenda Goens shared, "When you come in, you are like sunshine and when anyone visits your home, you can feel the love. It is so precious to see." 
To this day, they hold fast to their covenant with God being their center and family their love. Though both are a little slower and it is said that Bugs is Nolin's' crutch as they hold hands wherever they go, leaning on one another's strength and love, remaining forever together.