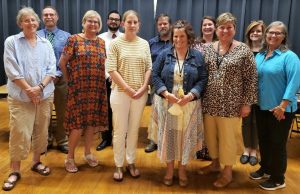 Pam Dudding, contributing writer
With the kids finishing school, teachers doing their final grading and maintenance getting ready for summertime mowing, the Craig County School Board started preparing for next school year.
At the June School Board meeting, Superintendent Jeanette Warwick shared that no changes had been made to the students and faculty handbooks, for approval.
The Board approved several grants, which are funds for many programs at CCPS.
Superintendent Warwick shared, "These are our applications for our federal funds that are due to the Department of Education by July 1."
Title I – A Federal Application which supports McCleary, being CCPS only Title I School in the division – $214, 827. 90.
Title II – Supports professional development activities in the division as well as assisting teachers with tuition costs associated with renewal of their licenses – $26,535.33
Title IIIa – Program designed to support English language – $229.12
Title IVa – Provides the capability to transfer those funds into either IA or Title IIA. In order to support literacy at McCleary, it was decided to transfer these funds. Many students, due to COVID-19, are not on grade level. These funds at McCleary will help to assist students with reading – $13,750.90
National Forest Reserve Funding of $96,810.66 – These are not funds that are budgeted, as they are not guaranteed each year. The monies received are based on the National Forest of Craig County, taxes paid. During previous budget discussion, a new bus was included ($85, 013). It was also reported that an additional mower is needed in Maintenance and Grounds (approximate cost of $8,578.)
Some items that are being considered for purchase are: a battery-powered walk-behind burnisher for $8,995., orbital scrubber and floor machine for $9,343., a self-contained carpet extractor for $2,979.10, cafeteria tables for $43,953., Chromebook carts for $40,573.56 and replacement Chromebook for $25,000.
Warwick asked and received approval from the Board for Robinson, Farmer, and Cox Associates to complete their annual audit.
"I want to publicly thank this Board for support you have been as the Administrative Team during this past year," Warwick shared. "You have made very difficult decisions in a year that is unprecedented. I never could have imagined a year as this. Also, I wish to publicly thank our staff as well as we are one of the few school divisions that have pretty much been in person since August, and I think there is something to be said for that."
"And, next year we are looking for a normal start," Chairman Susan Crenshaw quickly added as Board members agreed with smiles and positive affirmation.
Next month's meeting will be held on July 13 at 5:30 p.m. in the high school auditorium. Citizens are encouraged to attend the meeting and support the kids and staff of Craig County by becoming involved in the meetings.