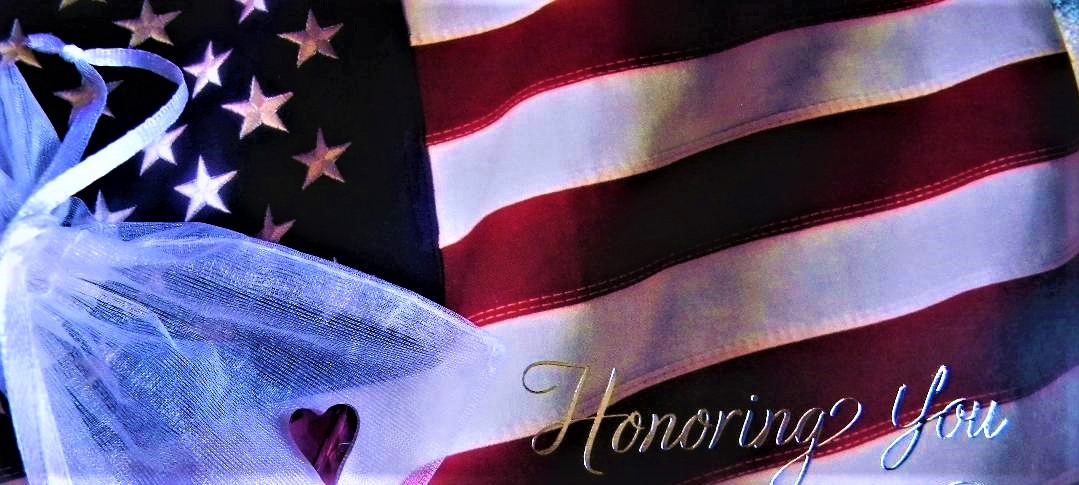 Pam Dudding Contributing writer
There are many quotes that can connect a person's spirit with truth.
Robert Green Ingersoll once said, "When the will defies fear, when duty throws the gauntlet down to fate, when honor scorns to compromise with death – that is heroism."
This statement is strong and hits the nail on the head when it comes to the focus of most military personnel who sign up to serve our country. Or, to the ones who never had the option of years ago and were drafted.
May has been Military Appreciation Month since it was designated by Congress in 1999.
Every year, the president issues an annual proclamation reminding Americans to celebrate this patriotic month that pays tribute to those who have sacrificed so much for our freedom.
Although the entire month is designated to honoring past and present military members and their families, there are several specific military holidays throughout Military Appreciation Month itself, including Loyalty Day, VE Day, Military Spouse Appreciation Day, Mother's Day, Armed Forces Day and Memorial Day.
One of the lesser-known Military Appreciation Month holidays is Loyalty Day, which is celebrated on May 1.
The USO states that it was officially designated by Congress as "a special day for the reaffirmation of loyalty to the United States and for the recognition of the heritage of American freedom."
Loyalty Day has been marked by every U.S. president since 1958 with an official proclamation. Also, the first Loyalty Day, then called "Americanization Day," was celebrated in 1921, but was renamed "Loyalty Day" by President Eisenhower in 1955.
The first Military Spouse Appreciation Day was observed on May 23, 1984, and is observed now on May 7 to bring national attention to the "role that military spouses play in maintaining the morale of the military and in supporting their significant others while they serve their country."
It was established by President Ronald Reagan and later made into an annual observance by Secretary of Defense Casper Weinberger.
VE Day, or "Victory in Europe Day," marked the end of World War II in Europe. Though VE Day was 75 years ago, many WWII veterans and civilians still remember it well and honor that day.
Americans celebrate Armed Forces Day annually on the third Saturday of May. It is a day to pay tribute to men and women who serve in any of the United States Armed Forces – Army, Navy, Air Force, Marine Corps and Coast Guard.
History shares that "It was designed to expand public understanding of what type of job is performed and the role of the military in civilian life. It was a day for the military to show state-of-the-art equipment to the civilian population they were protecting. And it was a day to honor and acknowledge the people of the Armed Forces of the United States."
Most importantly, Armed Forces Day is the proper day to honor all of the men and women currently serving as well as those who have served and sacrificed to defend our freedom.
Armed Forces Day was created on August 31, 1949, by the Secretary of Defense, Louis Johnson, to replace separate Army, Navy and Air Force Days. It is believed that the "event stemmed from the Armed Forces' unification under one Department of Defense by President Harry S. Truman when he signed the National Security Act into law on July 26, 1947."
In Truman's proclamation, he called upon fellow citizens to "display the flag of the United States at their homes on Armed Forces Day and to participate in exercises expressive of our recognition of the skill, gallantry, and uncompromising devotion to duty characteristic of the Armed Forces in the carrying out of their missions."
The first Armed Forces Day was celebrated on May 20, 1950. The annual Army Day Parade held in Washington, D.C., during the first week of April was replaced by an Armed Forces Day Parade held during the third week of May.
This year, the Mission BBQ at Towers Mall is honoring all Veterans and Active military by offering free sandwiches for each military branch the week of Armed Forces Day: May 10 (Army), May 11 (Marines), May 12 (Navy), May 13 (Air Force and Space Force) and May 14 (Coast Guard).
One of our residents, Pete Cranwell, served in the US Navy for four years as an Electronics Technician aboard USS Newport News in the Atlantic Fleet.
"I managed repair and operation of communication and electronic countermeasures equipment," he shared. "Serving in the Navy gave me the opportunity to serve my country and respond to the military draft. It also gave me the opportunity to work in the field of electronics communication which was my interest."
Cranwell was a licensed Amateur Radio operator who worked part-time repairing WW2 surplus electronic equipment in his hometown.
"I had experience with military electronic equipment, and thought I could use this to advantage in the Navy," he added. "I chose to enlist rather than be drafted so I could pick my branch of service and potential job category."
During his four-year deployment, his ship responded to the Cuban Missile Crisis in 1962.
"The ship I was on intercepted the Soviet ship Labinsk, which was carrying nuclear missiles bound for Cuba. I worked with CIA personnel to detect and prove nuclear radiation emanating from the Labinsk's cargo," Cranwell explained. "As part of the encounter, we came very close to all-out Nuclear war. Our ship was under surveillance by a Russian Submarine, B-59, equipped with Nuclear torpedoes which thought WW3 had started. As they were out of communication with Moscow and they thought a war had started, they were very close to launching a nuclear attack on our fleet."
Cranwell added, "I wanted to serve my country in a way that I could contribute what I already knew and what I had a strong desire to do."
Thomas Campbell once wrote, "The patriot's blood is the seed of freedom's tree."
The men and women of Craig County who have served our community and our country are to be honored for their dedication, service and some, for their lives.
To them and their families, Craig County sends our heartfelt appreciation to you for caring, responding to your call of duty and upholding the greatest privilege known to man, "freedom." We covet ours and thank you for fighting for us, to keep it in the United States of America.