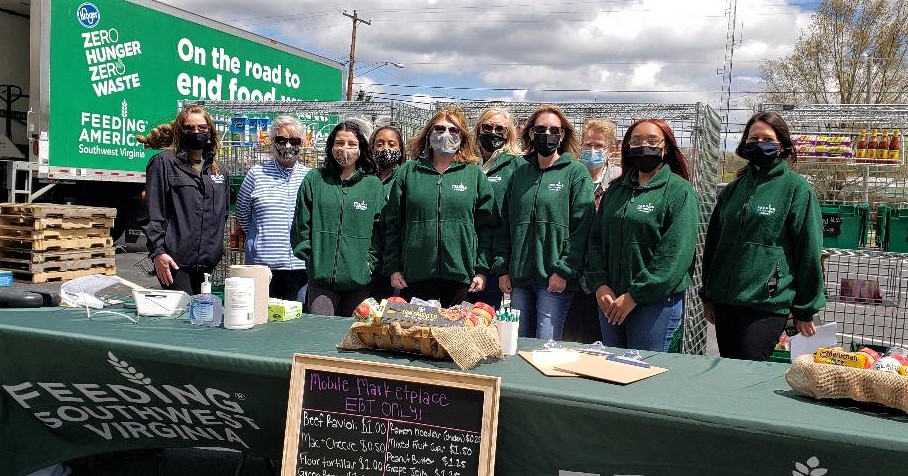 Southwest Virginia's Mobile Marketplace held their first visit to help provide food to Craig residents. The team members and volunteers who assisted were: Rita Pruitt, Jean Bradley (New Castle Christian Church organizer), Megan Wilkins, Sheryl Mosley, Pamela Irvine, Lisa Claytor, Allison McGee, Sharon Zimmerman (volunteer from Craig), Micah Cobbs and Lisa Uhl.Pam Dudding
Contributing writer
In rural America, citizens do not have the luxury of driving to five to six different places to get their food products. Most only have a couple of choices, and for some, that drive can be at least 30-minutes away.
The new Mobile Marketplace started arriving in Craig County in April. Their first trial run last Wednesday was a success.
President and CEO of Feeding Southwest Virginia Pamela Irvine was present and shared, "For this particular project, we already partner with this great church and drop off food on a monthly basis."
The purpose of the Mobile Marketplace is to provide food to individuals where they are.
"We know that transportation can be a problem, and the more rural the community, the greater the challenge is with transportation," Irvine said before adding, "accessibility is important for the people we serve, and we are taking a look at that."
They recently received some funding from the National Organization of Feeding America and Kroger to purchase a vehicle to transport foods to rural communities where they do not feel they have enough service in, or where they feel there is a demographic population that may be underserved.
"New Castle is one of those rural communities we feel is underserved by Feeding Southwest Virginia," Irvine said. "So, we selected this community and selected a partner, which we already had at the New Castle Christian Church and launched our Mobile Marketplace here. The intent is for people to get food and then to be able to use their SNAP card to purchase food at a lower cost, at a single location, versus having to go to multiple places."
The marketplace was set up with canned foods, pastas, breakfast items and many fresh vegetables and eggs.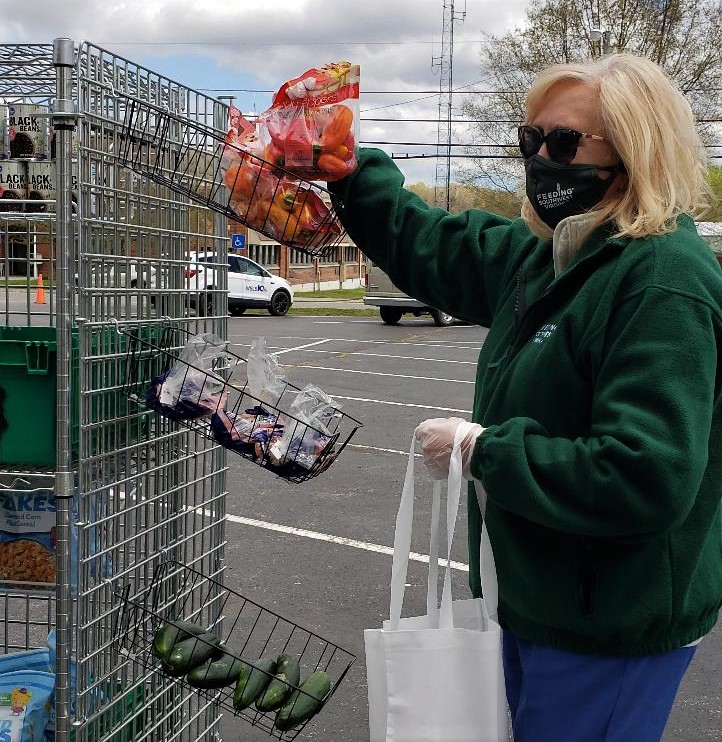 Feeding Southwest Virginia's Mobile Marketplace will set up the second Wednesday of each month at the New Castle Christian Church, along with the free boxed food for any community citizen who would like one.
"We are celebrating 40 years of providing innovative and progressive ways to still address hunger and food insecurities to places which have a lack of access to food locations," Irvine said. "Throughout our 40 years, we have adjusted our programmatic services to meet current needs and 2021 is no different. As we continue through this crisis, we are pivoting towards more direct service food distribution and innovative ways to fight hunger."
If you wish to apply for SNAP benefits, to shop the Mobile Marketplace, you may contact Megan Wilkins at (540) 342-3011 at extension 7037 or at [email protected].
Their website shares that:
Overall food insecurity is an estimated 16.5 percent in Southwest Virginia due to COVID-19, according to an October 2020 projection
The number of food insecure individuals in SWVA has increased by 26 percent since 2018
Estimates show that one in four children in our region may be at risk of hunger
In some counties in SWVA, projections show more than 20 percent of the population is food insecure
FSWVA serves 35 localities, ten of which are the poorest in Virginia. Hunger is a battle we will be fighting for the foreseeable future
"We're helping out one meal at a time for hungry children, seniors and families," the team shared. "And we are here to help Craig County."