---
Pam Dudding
Contributing writer
In yesteryear days, local fire departments would take a few weeks out of the year and go door to door, asking for donations.
Today, they have to resort to other creative ways to help fund the necessities they have to have in order to best serve their community.
On February 27, the Upper Craig Creek Volunteer Fire Department hosted a drive-thru spaghetti dinner fundraiser, serving over 150 meals in the process.
Volunteers were stationed at each section and the entire delivery ran faster than Chick-fil-A, with friendly greetings and thank you's in abundance.
"We had a great turnout, both in terms of volunteers and community support," Chief Shawn Matheney said. "And the Lord looked after us and cleared the rain out during the time of the dinner."
As people approached the fire department, orange cones were set up to help people drive easily through the correct path for the volunteers to get their orders.
Several volunteers were quick to take the orders while others did the running for the food, drinks, salads with specific dressings and the desserts.
The dessert list was over a half-page long, and included things like Heath Bar, coconut, honeybun, German chocolate, pineapple and chocolate, just to name a few.
Matheney said that they had so many people to donate food, desserts and other items and that he didn't want to try to list everyone as he would be afraid that someone would be left out saying, "Everyone please know how thankful we are for your donations."
He added that he wished to "send a big thank you out to all that helped whether it was leading up to the dinner, the day of the dinner and during the dinner."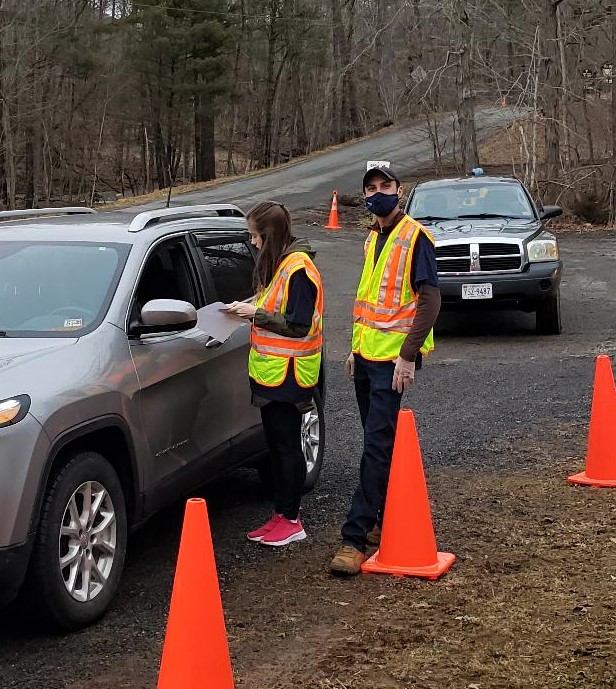 ---
"It took many hours and many days beginning with the door-to-door fund drive to get the word out," Matheney continued. "Everyone pulled together and got things accomplished. The only way to explain this turnout is Heaven sent, from the engine being donated, to the members that continue to be there to build the organization to what it has become."
Many complimented the spaghetti dinner on Facebook, saying things such as:
"Lots of food, all very good and you all did a great job with the packaging! Thanks!"
"A wonderful meal. Thank you for your service!"
"Great meal! Already looking forward to your next one! Great job by all"
"That spaghetti made my tummy very happy!"
Noted Matheney, "the funds raised will keep us in business."
Among the things the department needs includes new bunker gear (which he said the county has a grant in countywide for all departments).
"Also, we are always in search of updated equipment to better serve the citizens of the community," he said. "We are establishing back as a department and will turn down no donation large or small."
Matheney and the crew wished to send out "A huge thanks for the outpouring of community support they continue to give us. We are always searching for new members and no job is too small. There is a place for everyone at Station 5!"
They added for everyone to be on the lookout as more fundraisers being planned.