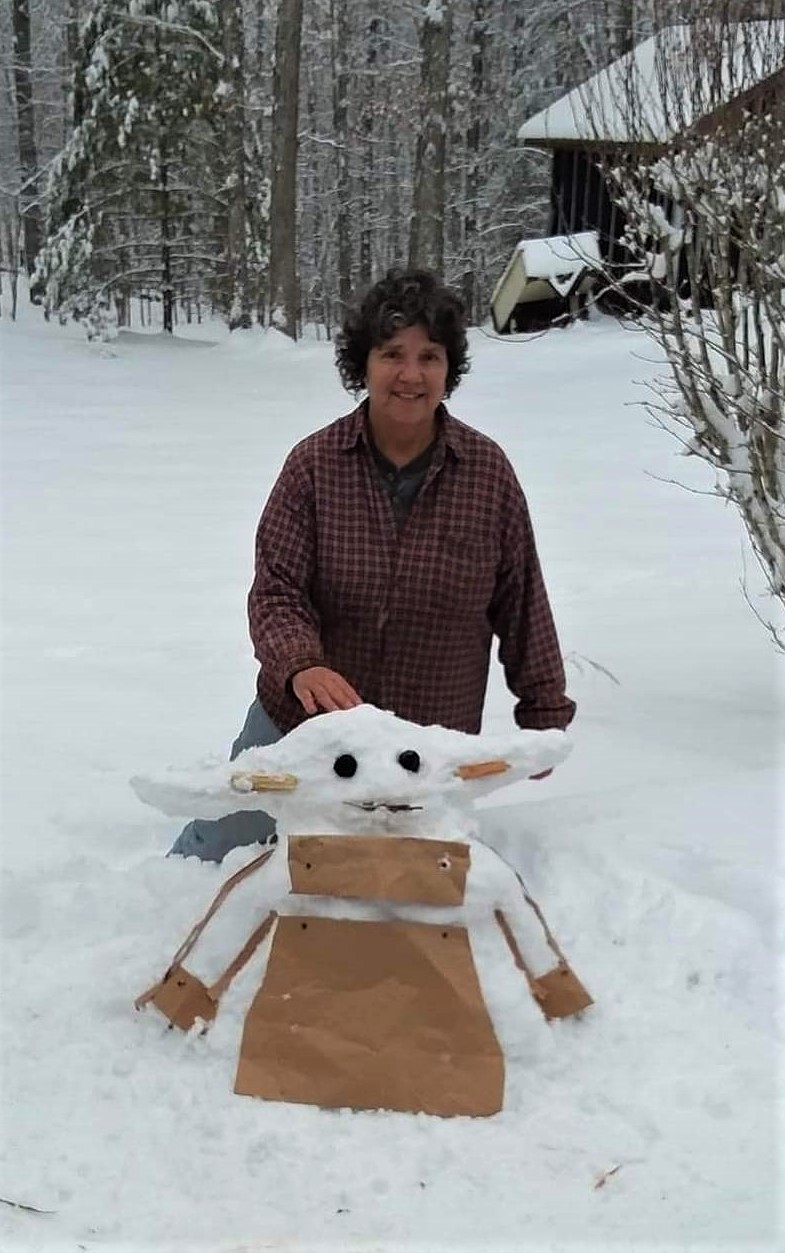 Pam Dudding
Contributing writer
When people are talented, it shows through regardless of what they do or where they live.
Local resident Lorna Bragg is a bit shy, but extremely talented and has been making snow art out of the snow Craig County has been getting lately.
"We've gotten a lot of snow here on John's Creek," said many local residents. "She's really making beautiful art out of it all. We are really enjoying it."
Lorna and her husband Jerry moved to Craig County from Salem about ten years ago after living in there all of her life. They and their cat share a love of Craig County's beauty and everything that it offers. "We love it here," she said.
"Jerry likes to take the pictures, but does very little of the snow art, however, he cleans off our vehicles and porches while I play," Lorna added with a little giggle. "I'd rather build things out of snow than eat when I'm hungry."
Lorna has made everything from a deer (or moose) to an upside-down snowman with a huge grin, a baby Yoda, a snowman with his legs crossed and a mask on, a bear crawling over a ledge, a huge coconut pie (that I thought was real at first) and a giant ice cream sundae, amongst many other creative things.
"All my life though, I have loved playing in the snow," Bragg said. "I won't say for how many years though." She makes her creation, then spray paints them and snaps a photo.
Lorna also shared that nobody influenced her, but she does appreciate art. "As a matter of fact, I have to look at a picture to even make some of my sculptures," she said. "Lots of trial and error, but I try to improve as I go along."
Though Lorna doesn't believe she is "an artist by any means and will never be," in her eyes, many beg to differ, including her neighbors, newfound Facebook friends and family members.
"Now with Facebook, it's more exciting," she expressed. "Some of my family members, remembering when they were little kids, comment now on the posts, saying how some of their happiest memories were playing in the snow with me and I like that. Now with the Covid, I hardly get to see any of them. The snow posts keep us close and makes them smile and I love doing it."
Lorna said that she does enjoy art, especially outdoor scenes, as she has always been an outdoors lover.
"Needless to say, I don't do housework when it snows because I'm too busy enjoying the snow and watching my sculptures slowly disappear," she said. "Now I'm going to really have to step up my game."
Lorna's family still connects with her on Facebook also.
Jennifer Altice publicly posted, "Some of my best childhood memories were playing in the snow with my Aunt Lorna Bragg. She's still at it."
Lorna's niece, Samantha Dunman, who lives in Daytona, Florida, shared, "How fun! My great aunt made this handstand snowman for me today! Thanks Lorna."
Dunman says that she is a yoga instructor that practices handstands daily and has been posting about her handstand journey for a few years now.
"Lorna decided to make me a snowman doing a handstand," she said. "I never get to see snow because of where I live, so I thought it was very creative and thoughtful of her to do."
Another niece, Amanda Boone, posted on Facebook, "Why my aunt is better than yours!" with Lorna's picture of the snow art of a baby Yoda. Lorna responded to Amanda, "I made that just for and Justice."
Amanda continued, "I grew up in a very large family, but was an only child. My dad was one of ten children. My mom had seven brothers and sisters. Out of all my many aunts and uncles, the one who I related to the most, as a child and as an adult, is my Aunt Lorna. She always took the time to play with me and make me feel important as a child and still does. Ever since I can remember, she has always loved the snow. Driving in it, playing in it, and then there is her special skill making snowmen or snow creatures, so to speak. Here lately she has taken her skills to a whole new level. She has made everything from a gigantic coconut cream pie to a Baby Yoda which she dedicated to me and my little preemie guy. My Aunt Lorna has always been one of those people who lives life to the fullest. You will never see her when she doesn't have a smile on her face. This woman is and has always been a true inspiration to me."
Linda Boone, who lives nearby in Shawsville, shared her love for Lorna also.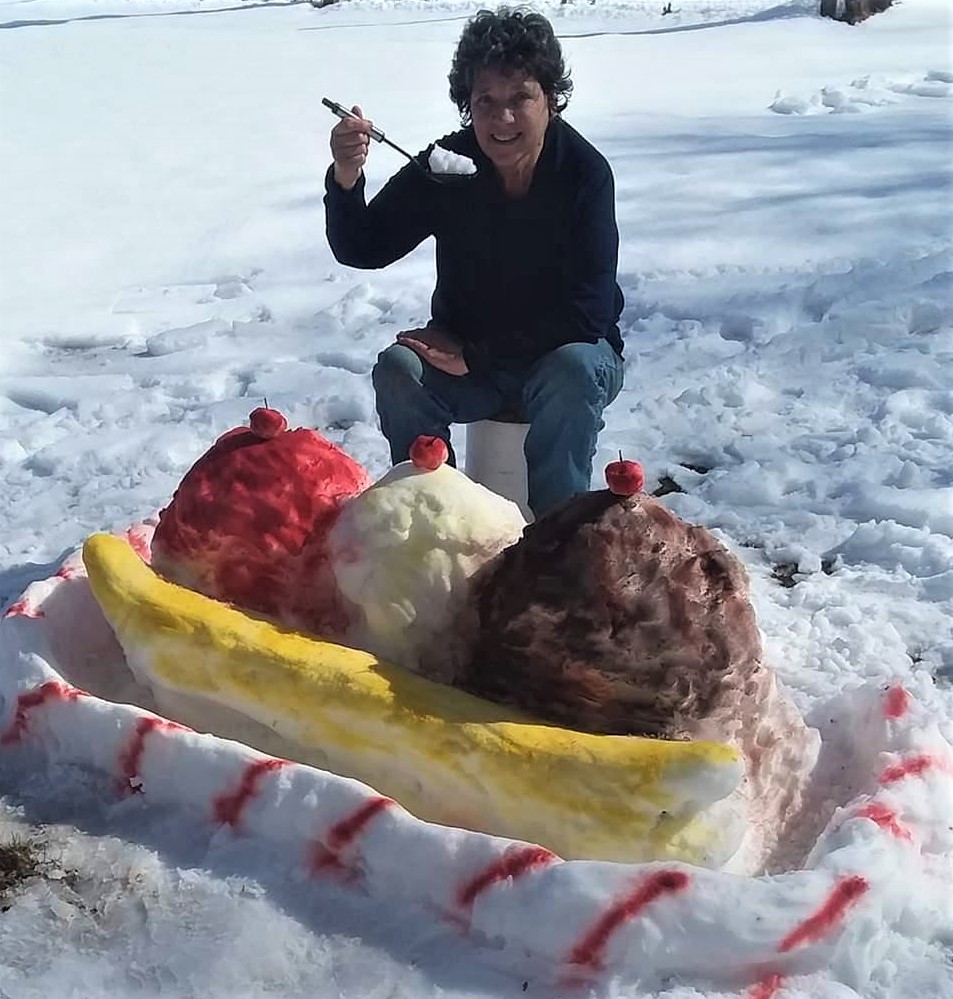 "Lorna is my dad's sister. She is a twin. She is an outdoorsman and an avid hunter and can out hunt and out fish all of her brothers. She has always been outgoing and a country gal. She's definitely talented and nice and she's always been fun," she said.
Linda added, "She's always had a kids' heart. I mainly love the deer one because she is a hunter. I remember when I was growing up and we all hunted together. She has always loved playing in the snow. She has always had a creative imagination and a comical side. She has always made me laugh and will do anything in the world for you. It's been a while since I've seen her, but she's always created snow figures. She will probably make a trout creation before the snow melts as she is a big-time trout fisherwoman."
Lorna added a huge banana split to her creations this week, sharing, "I thought about sharing this banana split, but…naahhhh! Lol!" as she held a spoon up to her mouth over it.
"I just like to bring a smile or two to people's faces," Lorna shared. "It helps to relieve some of the stress."