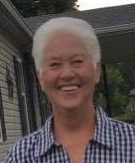 Wanda Caldwell Jones of New Castle went to be with her heavenly Father on Monday, December 21, at age 81. She was preceded in death by her husband, Edward Jones; two sons, Brad Jesse and Eric Wade Jones; and daughter, Teresa J. Wright.
She is survived by son, Mark (Michelle) Jones; and daughter, Marsha (Sput) Jones; grandchildren, Derek, Brock, Brad, Maddy, Kelisha, Jessi, Tyler, Emily, Josh, and Stacey; 12 great-grandchildren; sisters, Noline (Frederick) Jones and Joyce (Malcolm) Horne; and many nieces and nephews, which she loved dearly.
Funeral Services will be held 1:00 p.m. on Wednesday, December 23, at New Canterbury Pentecostal Church in Catawba with Pastor Lee Sarver officiating. Interment will follow at Bowen Cemetery, Catawba, VA.
Arrangements by Paitsel Funeral Home. www.paitselfh.com