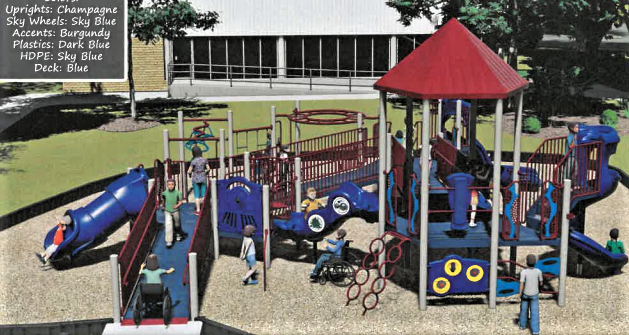 Pam Dudding Contributing writer
If there is one thing most kids look forward to in school, it is recess. When the bell rings and the teacher announces "It's time," smiles pop out of nowhere and all of a sudden, the drowsy kid comes alive again and the atmosphere takes a drastic happy shift.
Craig County Public Schools had to remove some of the playground equipment which has left large empty spaces in the playground area.
Kids were disappointed that it was taken away, but due to new state codes, along with some equipment just getting older, there was no other option.
Superintendent Jeanette Warwick and McCleary Elementary Principal Gerri VanDyke, however, have been checking on new equipment and possible grants to help purchase something new. According to the codes, the approved playground equipment is very expensive.
Warwick received the quotes for the playground areas, reporting that they will need an additional $21,000 from the School Board capital account.
"We did get the matching grant but that is only on the actual structure," she said. "This does not include installation and surfacing."
Additionally, they were given a discount of $4,842 for the Pre-K playground, Ollie's Nook. Principal VanDyke had previously raised $8,000 which left a balance of $1,802.74.
Warwick said they received a matching grant on the All For Fun structure of $48,343.36.
"With the installation and the surfacing, it gives a balance of $71,310.82. Fifty-thousand had previously been approved from capital which left a total balance need of $21,000," she said before adding that there have been people and groups interested in donating.
"If we get these donations, then some of that money can be returned to capital," she said. "However, in order to get the discounts, we have to have a full check to them at the time of order."
The color scheme chosen was more of a green and a blue to blend in with the playground and a champagne roof, as it was explained the red plastic fades.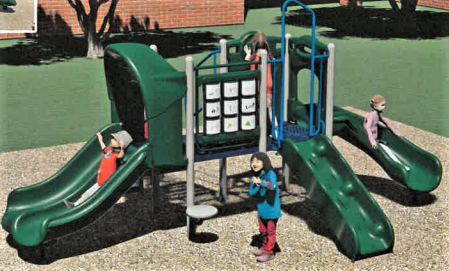 Maintenance Director Denny Williams has a need for two more people to assist when the playgrounds come in the week of November 11. Some of the work includes digging the holes and laying the concrete as well as later laying mulch.
"I feel that $71,000 in capital for two playgrounds is a great investment for our students," Warwick noted.
She is currently setting up a donation site where people and businesses can send their donations to McCleary Elementary and designate it to "playground equipment."
Hopefully, in a few weeks, everyone can see the jubilant faces of Craig County students enjoying their new playground equipment. As they play, they exercise not only their bodies but their mind and spirit too which makes for a happier kid to learn even more easily in the classroom.