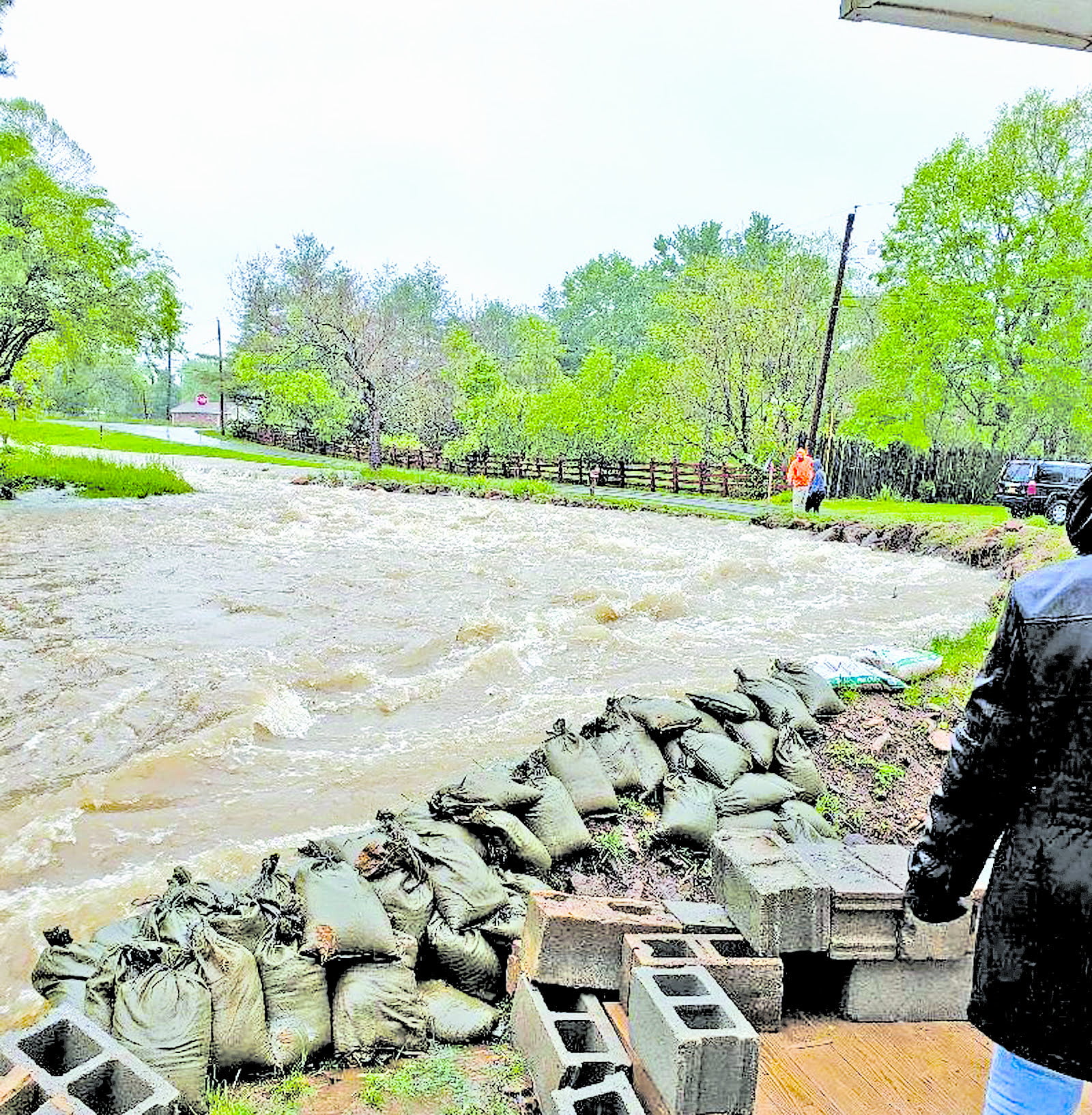 Pam Dudding
Contributing writer
They say it takes a village to raise a child. It takes a commUNITY to raise a wall.
As spring has approached, the flowers are blooming in everyone's yards, bushes are sprouting their colors and the trees are turning the browns into gorgeous deep greens with many shades of buds.
People have already started their gardens and kids are even swimming in the creeks.
Sadly though, on May 20 and 21, Craig County was hit hard. Over nine inches of rain came in such a short period of time.
Calls for help appeared all over Facebook. The new social distancing had to be honored, "at a distance."
Some needed wet and dry vacuums, while others needed help getting out of their driveways or places they had gotten stuck because the waters rose so quickly.
Many on Facebook and the 311 Traffic site warned people about the mudslides, water flowing over roads and road closings.
Some had even more pressing issues. One resident, Rick "CB" Dudding, was looking at the possibility of the raging creeks beside his home taking off his back deck.
"I've lived on this street all my life and I've never seen the creek do this," he said.
The creek had jumped its borders and had extended an unbelievable 25-30 feet in width, rushing its waters over the road as well. As it approached Dudding's home, it had to narrow to a seven-foot funnel. The force of the rushing waters pushed some over in the neighbors' yard and across the creek, creating a large pond-like area.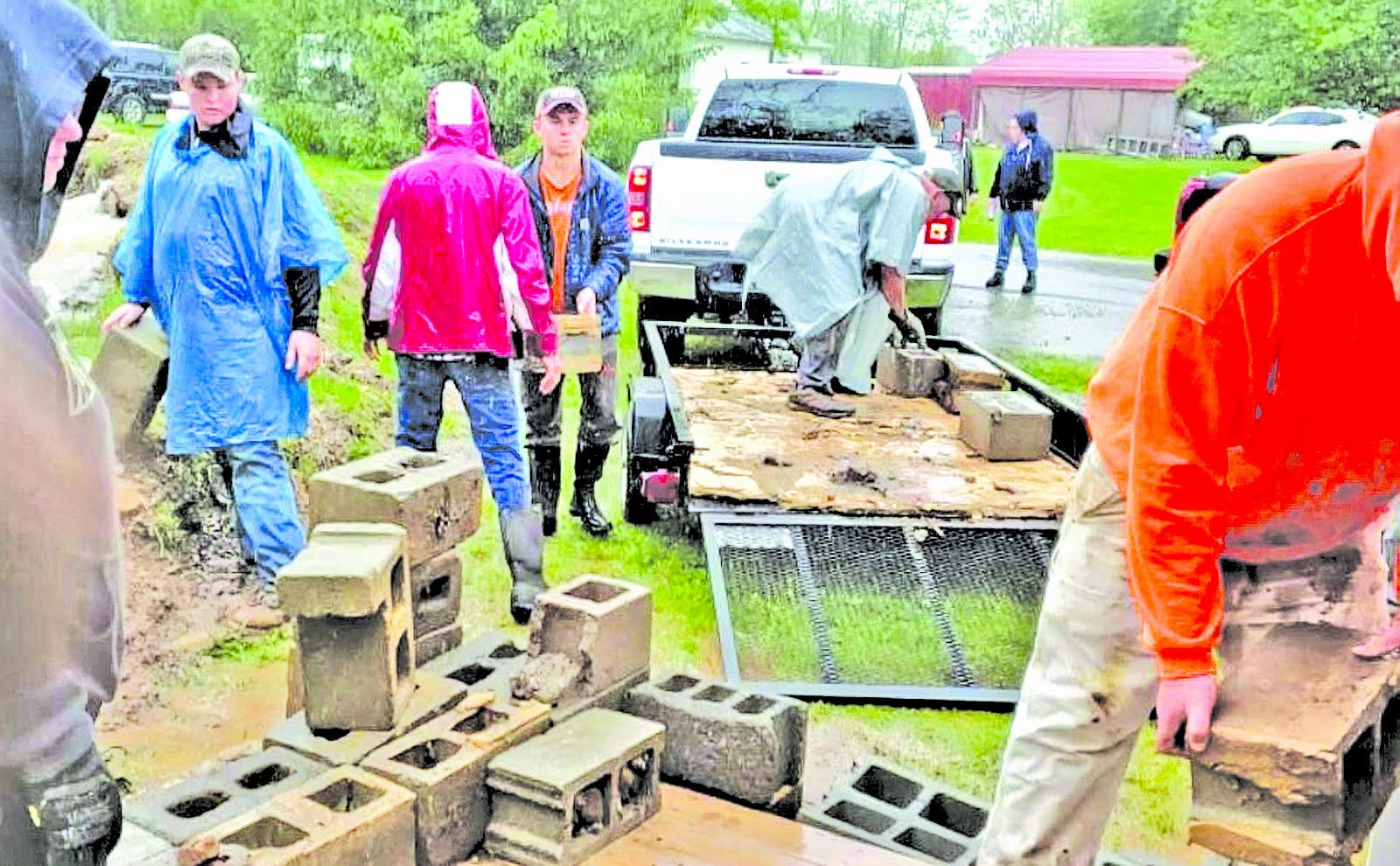 The waters continued to rise within minutes of each other.
Dudding's sister contacted friends and family via text for help as well as immediate prayers, while his daughter used social media and a video to cry out for help, which showed the extensive danger of the plea.
"I couldn't believe that people just started showing up," Dudding said. "It's like they come out of nowhere."
Age had no factor. From young kids to teens, and on up to their 60s, the commUNITY came together. Said Zacharay Peters, "This is community coming together, even if they live 20 miles away. These parents are raising their kids right."
At first, Dudding's mother guided the volunteers in rearranging sandbags atop the large wall of rock she had built last year to prevent any future flooding, as Rick had his house flooded about two years ago. Still, the waters continued to rise and beat over them.
When it was evident that the sand bags were no longer working, everyone quickly hurried and loaded up about 40 cinder blocks and started stacking them onto the wall. They then made a partial cinder block door, hoping it would prevent the force of the water from caving it.
Dudding admitted he was somewhat afraid and confused about what to do.  It was obvious that what they had built was only temporary.
Alvin Hodge contacted the family and offered his trailer to move things out. Dudding decided he needed to start doing that and everyone pitched in, boxes appeared within ten minutes from another friend and before he knew it, his two back rooms only held his washer and dryer.
The wall was getting beaten down. The waters were still rising as the rain continued to pour down the entire time. Everyone was soaked, but no one complained.
His roof started leaking and before Rick knew what was going on, someone had taken a tarp and placed it on the roof to help deter the leak.
Still, it did not look good. Betty and James Dudding, Rick's parents, seemed distraught as they watched the desperate attempts to save his home. Everyone knew that it would only be a matter of a few hours before rushing waters would penetrate the house.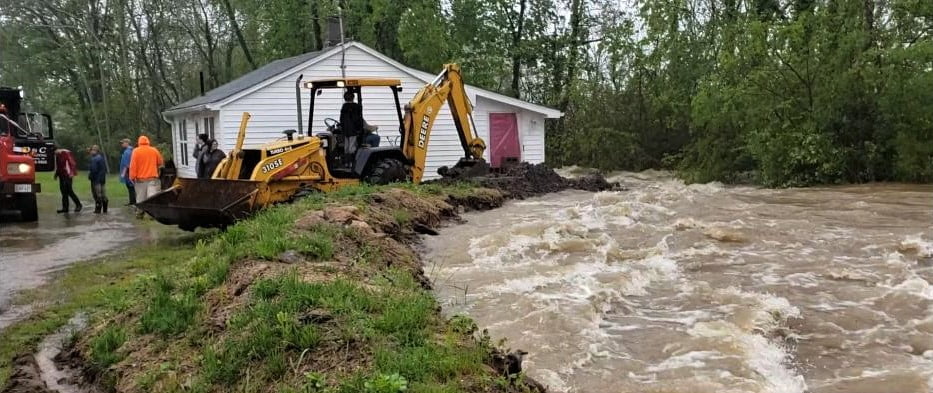 Then, Daniel Givens and Ethan Brown arrived. Here were the big boys with the big toys. A truckload of rock and dirt was pushed onto the wall to create a stronger and thicker barrier. Then another, another and another was brought.
"They built a new wall," friends exclaimed. While many were building a wall of prayer at a distance, others were physically and emotionally building a wall of safety, love and friendship.
A sweet peace enveloped the entire home. Everyone's heart seemed to lift. Fear had no place anymore. Even laughter filled the air. Though soaked, cold and tired, the true definition of commUNITY pursued and won.
Later, Dudding shared that he didn't want to say anything at the time because he was afraid that he was going to lose his home.
"I just want everyone that helped to know that it meant the world to me. I really don't have words to share with you just how much it meant. I love you all and thank you," he shared.
Dudding and his family wished to thank the many people who came to help: D&C Excavating, Daniel and Heather Givens ("which we are deeply indebted to"), Ethan Brown, Jon and Olivia Slusher, Pam Dudding, Wayne Belcher, Sam Boardwine, Grant Oliver, Samuel Saunders, Michele Ciaravino, Kim and Bethany Saunders, Elizabeth and Travis Mabes, Alvin and Mary Hodge and Dawn Hannah.
At the same time all this was happening, other citizens were having friends to help them pump out their basements. People were sharing drop in pumps, wet-dry vacs and much intensive labor.
The '311 Traffic' page on Facebook was used minute by minute. Other roads were also discussed, but no one seemed to mind the sharing of helping one another.
Though mudslides created mayhem and roads were closed, as some even had fallen in, like the driveway off of 3rd Street in Craig, the community stayed strong.
Angie Guthrie-Ponton posted pictures of the overflowing of Meadow Creek, off Little Mountain Road where the road was closed due to extreme high waters.
Craig County VDOT workers shared that since 1985 they had not seen Meadow Creek rise that high, that fast. They even commented that it was an odd rain as Goose Creek wasn't hardly impacted at all.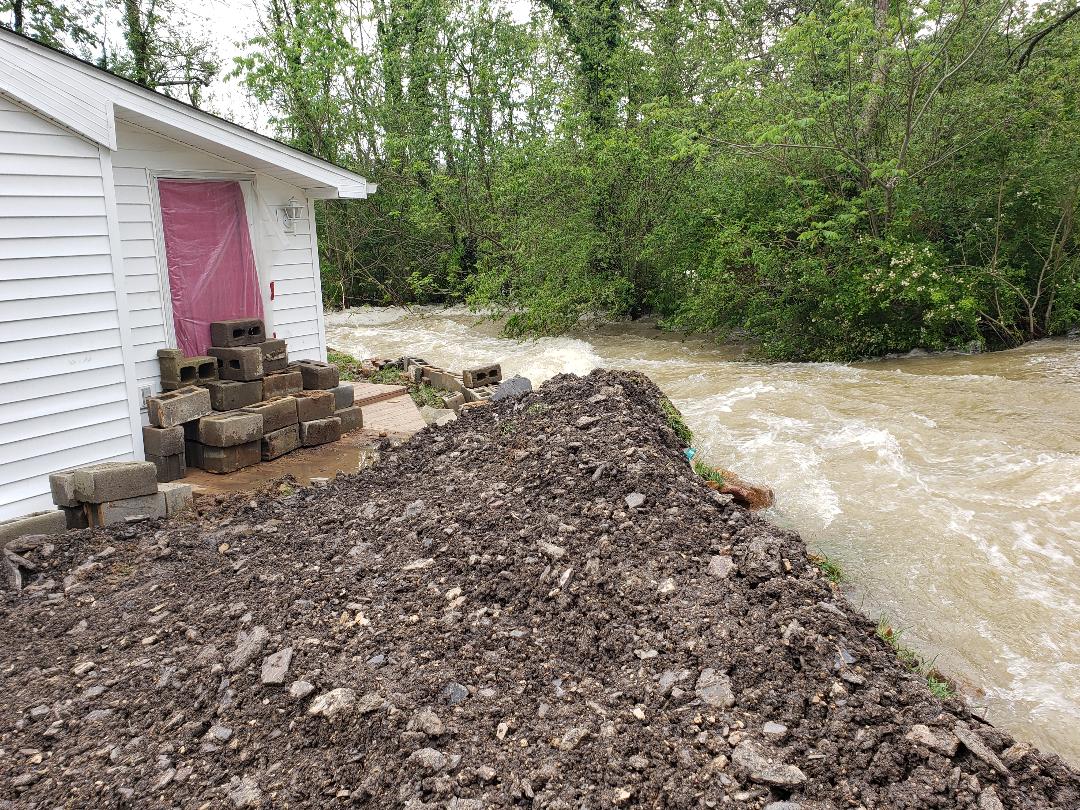 Greg Crowder took pictures of Craigs Creek, where it covered the roads, no longer allowing travel. "Must be high tide," one guy commented.
Mary Huffman posted pictures of McDaniels Dam at upper John's Creek. "Water was up to five feet in the road. I've never seen it that bad," she said.
Susan Dudding posted, "It's pretty bad when you need a boat to check your fences." She shared that their hay field was under eight feet or more of water. One person added, "Wow, looks like a fishpond instead of a hay field."
As people are cleaning up, they are still looking at the uneasy upcoming weather forecast of the next several days, as the ground is soaked, and water runoff will be immediate.
Still, Craig residents are ready and willing to help one another when it's needed. "Yep, that's why I love Craig County," Slusher noted as many others agreed with her sentiments. "It's our little town."